How do I travel to Belitung ?
---
Paket Wisata - Lighthouse
Menyaksikan eksotisnya pantai pasir putih, bebatuan artistik dan laut biru di: Tanjung Tinggi, Tanjung Kelayang, island hopping ke pulau-pulau

The easiest way is by airplane off course. There are several daily flights from Sukarno Hatta airport direct to Tanjungpandan. Flight will take approximately 45 minutes. The ticket price is between USD 40 until USD 80 one way, depending on available ticket class during the booking. You will arrive in Tanjungpandan at Hananjuddin Airport of Belitung. Another alternative is taking flight from Pangkalpinang Bangka to Tanjungpandan Belitung with ticket price approximately USD 40.

IMPORTANT !! Flight destination is Tanjungpandan (Tanjung Pandan) and DO NOT Pangkal Pinang (Bangka) neither Tanjung Pinang (Bintan). Belitung and Bangka is two different island, also different island than Bintan at Riau islands province.
If you need help to arrange your trip to Belitung, we are in partner with airlines can arrange your transportation to Belitung as part of our tour package. We can also provide airline ticket only, please contact us at +62 719 22 890 (hunting), or:

Make reservation of our Tour Package by click ->


Below are the list of available flight schedule to Tanjungpandan Belitung. Please note you must arrive at the check-in counter more than one hour earlier. The queue is usually long especiallly for morning flight. The flight schedule usually change from time to time, please keep visiting this page for the updated schedule. The flight schedule can be seen from our tour package reservation form here.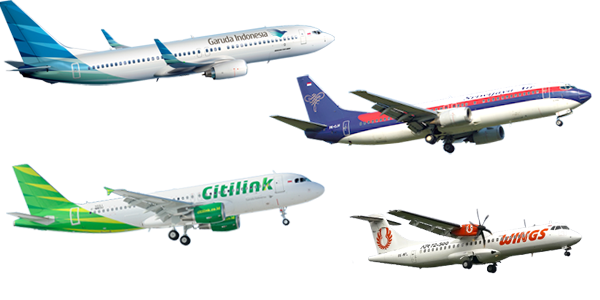 The Airlines that fly to Belitung



For weekend traveller, we suggest you to leave on Saturday morning from Jakarta and return on Monday morning from Belitung. You will arrive in Jakarta around 9.00 and I think you can straight go to office from Sukarno Hatta airport after spending 2 full days in Belitung. Or else, you take the Friday off then you will have full 3 days 2 nights stay, coming back to Jakarta on Sunday afternoon.



TRANSPORTATION SCHEDULE

/td>
TRANSPORTATION TO TANJUNGPANDAN BELITUNG
-
05.55 Citilink QG 9533
Jakarta - Tanjungpandan
-
06.20 Sriwijaya Air SJ050
Jakarta - Tanjungpandan
-
06.50 Garuda Indonesia GA0282
Jakarta - Tanjungpandan
-
08.35 Sriwijaya Air SJ056
Jakarta - Tanjungpandan
-
10.10 Sriwijaya Air SJ054
Jakarta - Tanjungpandan
-
10.30 Garuda Indonesia GA0284
Jakarta - Tanjungpandan
-
13.05 Citilink QG 846
Jakarta - Tanjungpandan
-
14.00 Ekspres KM Bahari
ship from Bangka - daily except Tuesday
-
14.00 Sriwijaya Air SJ052
Jakarta - Tanjungpandan
-
14.25 Wings Air IW 2276
Pangkalpinang - Tanjungpandan
TRANSPORTATION FROM TANJUNGPANDAN BELITUNG
-
07.00 Ekspres KM Bahari
ship to Bangka - daily except Tuesday
-
07.30 Citilink QG 9534
Tanjungpandan - Jakarta
-
07.50 Sriwijaya Air SJ051
Tanjungpandan - Jakarta
-
08.40 Garuda Indonesia GA0283
Tanjungpandan - Jakarta
-
11.40 Sriwijaya Air SJ055
Tanjungpandan - Jakarta
-
12.15 Sriwijaya Air SJ057
Tanjungpandan - Jakarta
-
12.20 Garuda Indonesia GA0285
Tanjungpandan - Jakarta
-
14.45 Citilink QG 847
Tanjungpandan - Jakarta
-
15.15 Wings Air IW 2277
Tanjungpandan - Pangkalpinang
-
16.00 Sriwijaya Air SJ053
Tanjungpandan - Jakarta
Support us by purchase our:
TOUR PACKAGE
There have been 20,176 tourists in 2,127 trips, decided to take holiday in Belitung joining BelitungIsland.COM Tour Package, the first and biggest licensed tour operator in Belitung:

Enjoy exotic truly white sand beaches, artistic granite boulder and blue sea at: Tanjung Tinggi, Tanjung Kelayang, Tanjung Binga
Hotels equal to star **/*** beach front white sands. Full meal plus culinary tour of special Beitung dishes + snack and drink
Island hopping exploring small islands likes Lengkuas and Burung islands. Land transportation included, visit Laskar Pelangi Village
Complete itinerary with experience tour guides. Suitable for photography hunting, corporate outing or family gathering