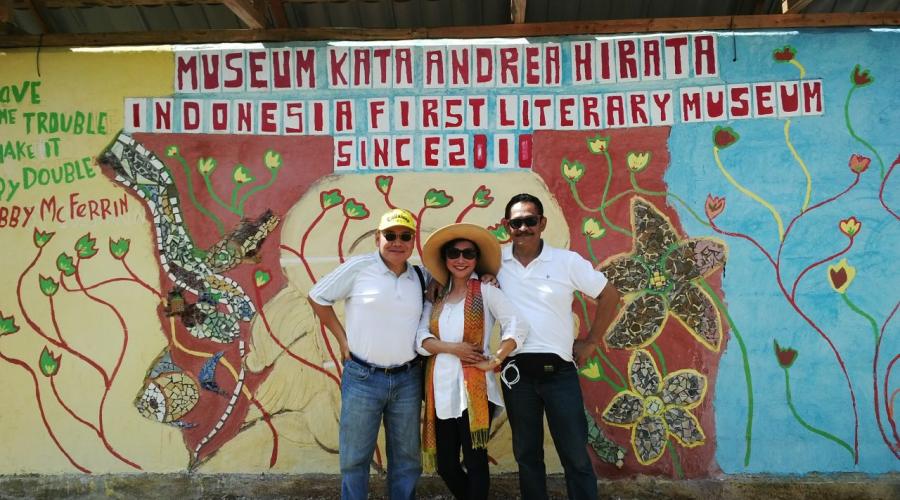 For fans of literature, then visiting the Andrea Hirata Kata Museum in Belitung will be something exciting and interesting. Belitung at this time does not only present a beautiful beach dish. But there now we can have alternative tourism besides the beach. Well, one of the alternative tourism besides the interesting beaches for us to visit is the Andrea Hirata Word Museum. Andrea Hirata himself is a well-known writer in Indonesia who has produced many literary works, especially novels. One of the phenomenal works ever produced by Andrea Hirata is the Laskar Pelangi novel that has sold more than 5 million copies. From the Laskar Pelangi novel which was then filmed on the big screen, this made the name Belitung popular. Some of Andrea's works, including Laskar Pelangi, indeed tell and carry their native region, Belitung.
Established the Word Museum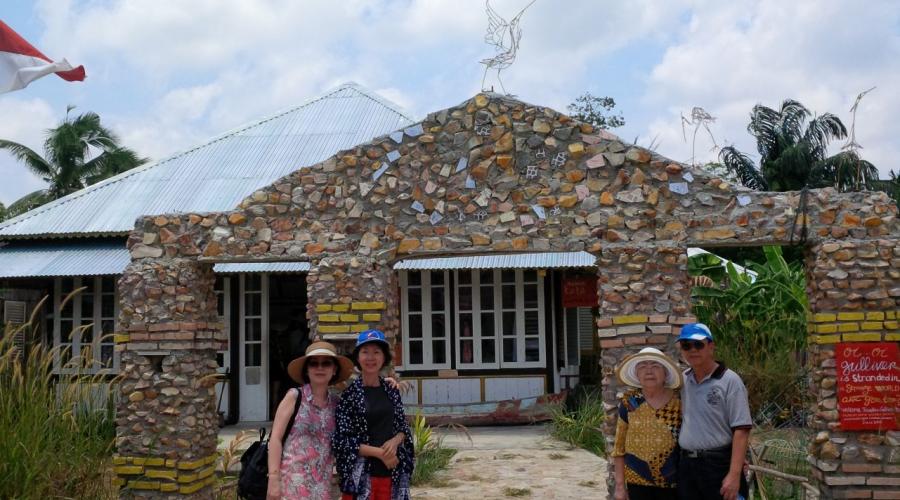 halaman museum kata andrea hirata
Andrea's love for the satstra world is indeed so great. For this reason, this man who graduated from Paris University and Sheffield Hallam University in England then founded the Word Museum in November 2012 in his native area, Gantung, East Belitung. The Word Museum that Andrea founded herself is the only literary museum in Indonesia. From here, visiting the Kata Museum will be impressive.
Interesting Things from the Andrea Hirata Word Museum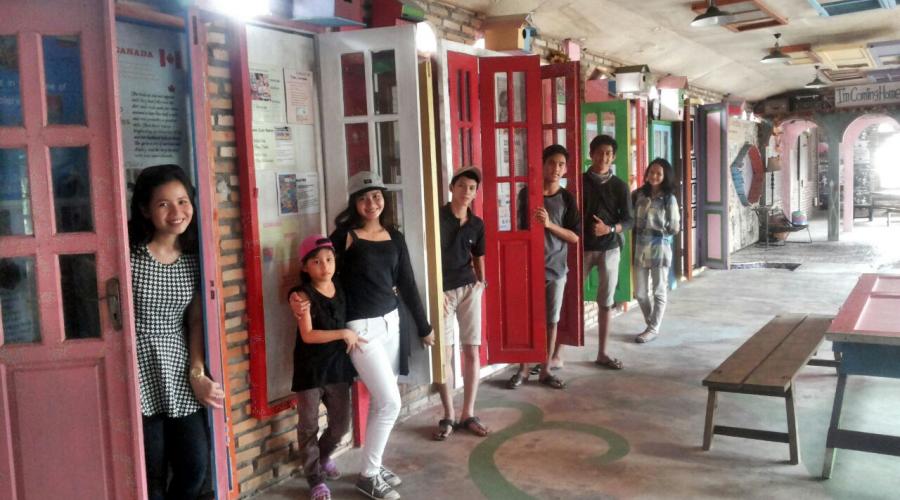 Pintu Museum Andrea Hirata
Andrea Hirata Said Museum is indeed never empty of visitors. Every day whether it's local and foreign tourists will always be found here. Then what makes this Word Museum so special? The answer is because in this museum there are some interesting things or parts to explore. Well here are some interesting things we can get at the Andrea Hirata Word Museum.
1. Entrance

Pintu Museum Andrea Hirata
Entering the courtyard of the museum, we will immediately be greeted by an attractive entrance. This is because the doors of the Word Museum have a variety of colors such as a rainbow so we will get a cheerful impression immediately. Not only at the entrance, but this colorful paint can be found in several windows of the museum building. The diverse colors of the doors and windows of this museum might represent and show the symbol of the rainbow which is one of the works of Andrea Hirata namely Laskar Pelangi novel.
2. The Rainbow Troops Shelves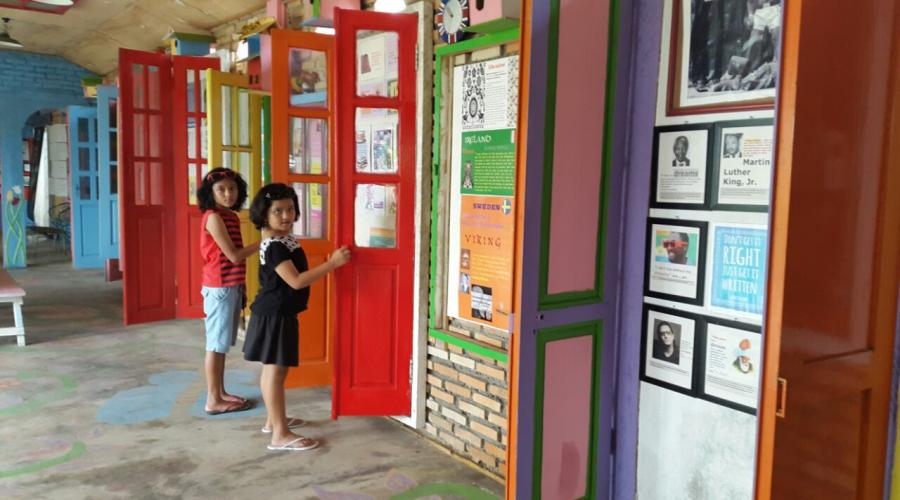 Ruangan di Museum Kata
After seeing the colorful doors and windows, we will enter the museum area. Now when entering the museum we will be treated to a neatly arranged six-level shelf view. The shelf named the rainbow troops itself contains several novels by Andrea Hirata that you can read on the spot. Andrea's novels displayed on this shelf are not only Indonesian-language ones, but here we can also read international editions such as German and the United States.
3. Laskar Pelangi Room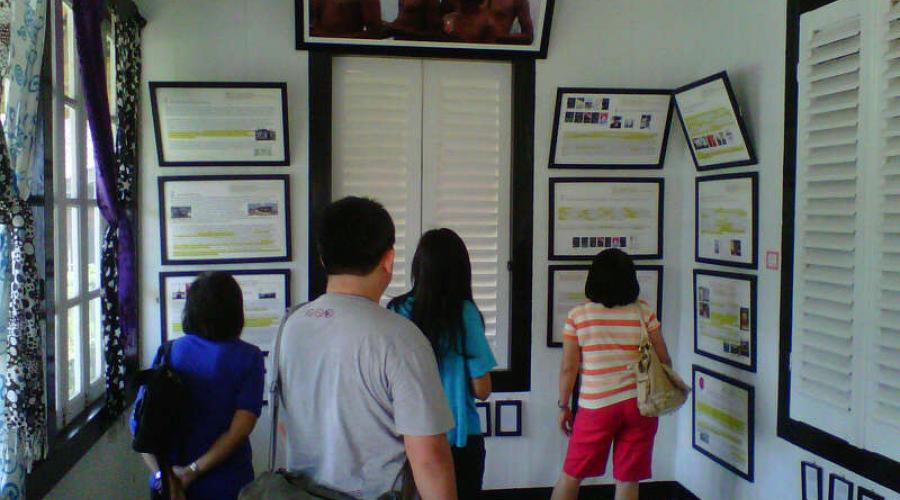 Ruangan di Museum Kata
Next, interesting things that we can find in the Andrea Hirata Museum is the Laskar Pelangi Room. Being in this room or area, we can find several classic and contemporary paintings from Andrea Hirata, of which there are around 200. The Rungan named Laskar Pelagi itself is a central or main room that connects several other rooms such as curls, latitude and others which will be discussed next.
4. Curl Space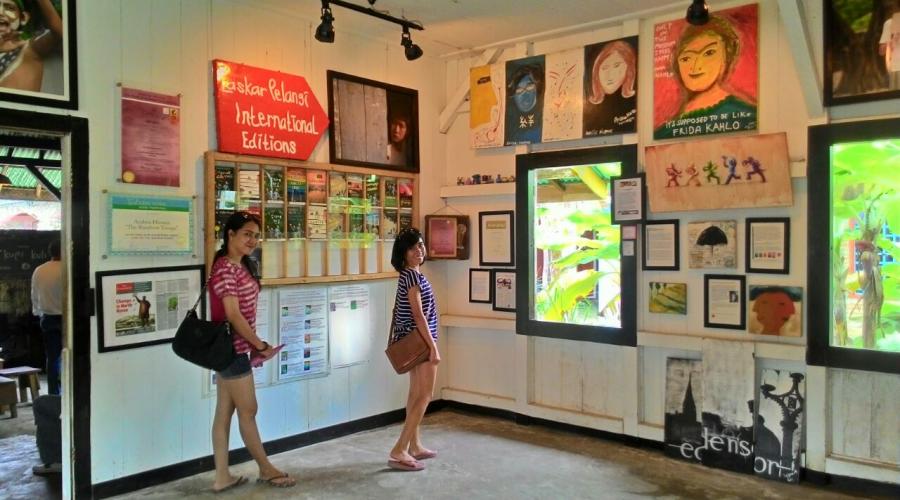 Ruangan di Museum Kata
Heading into the Ikal room in this Museum, we will find some excerpts from the Laskar Pelangi novel which tells the story of Ikal. The figure of Ikal in the Laskar Pelangi novel itself is one of the main characters who is considered a representation of Andrea Hirata as a child. In this Ikal room, we can also find a photo with a sad scene where Ikal has to part with his smart friend, Lintang, because he cannot continue his school anymore. In addition, here we can find a number of decorations made by Andrea Hirata, such as university pamphlets, news papers about Laskar Pelangi to drawing tools that are colored with various colors of paint so that no longer their original form can be seen.
5. Latitude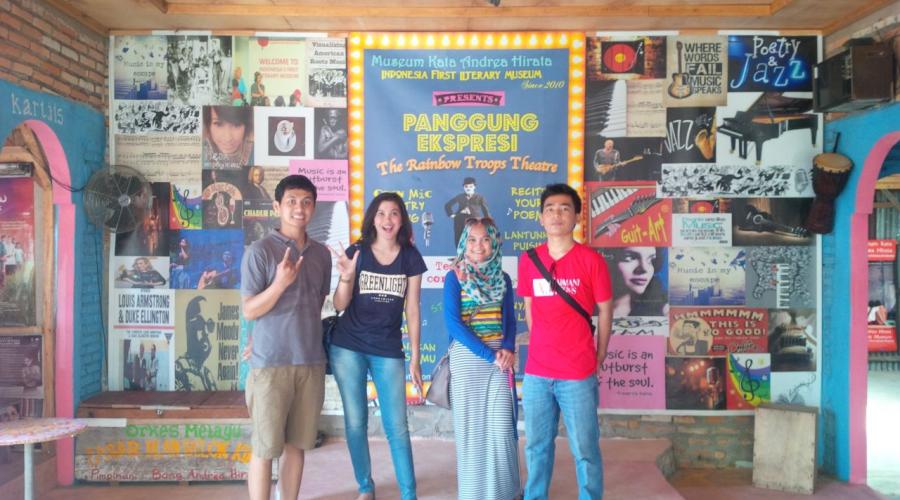 Ruangan di Museum Kata
One of the figures who also greatly impressed Ikal in the Laskar Pelangi novel was Lintang. In his story, Lintang is told as a smart and intelligent person who had made SD Muhammadiyah Hang up win the quiz contest. Unfortunately when his father died, Lintang had to leave school to take care of her younger siblings. In the Lintang room in this museum we can see photos of Lintang and also Lintang's favorite bicycle used in the film Laskar Pelangi. In this room we can also find interesting abstract painting decorations around the photographs.
6. Mahar Room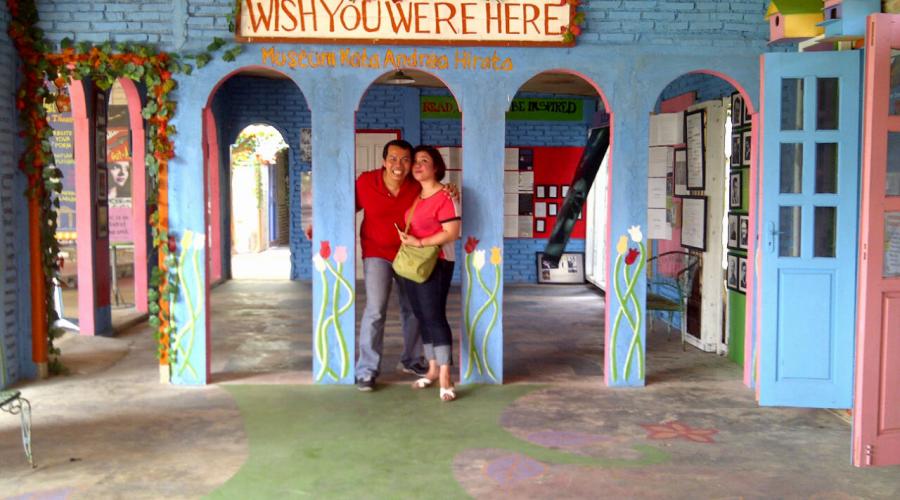 Ruangan di Museum Ka
Furthermore, in this museum we can also find the Mahar room which also inspires Ikal. Mahar himself is an eccentric figure because of his very high artistic spirit. Once the high soul of the Mahar art made SD Muhammadiyah Gantung able to win a carnival. In this room alone, we can find various photographs to paintings from homeland artists such as Rhoma Irama who has always been a Mahar idol.
7. Coffee and Mail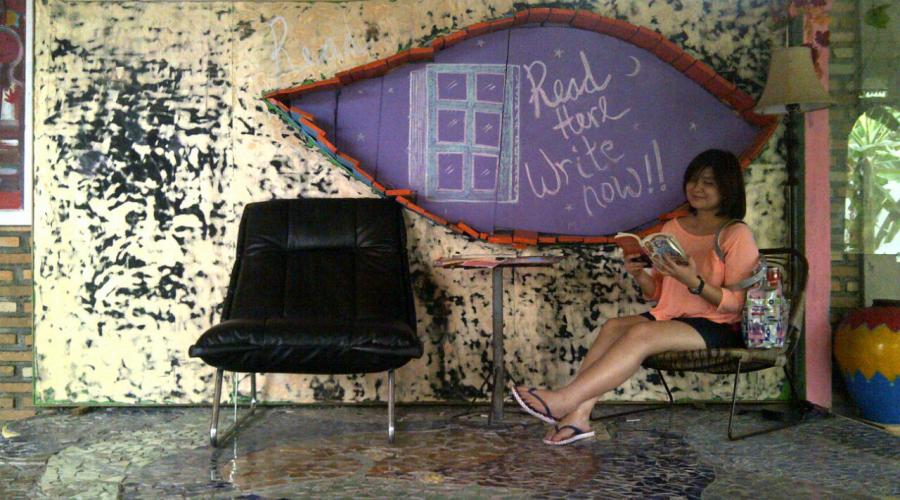 Finally, interesting things that we can find in the Andrea Hirata Word Museum are coffee shops located in the backyard of the museum. The backyard of the museum itself was originally a kitchen area which was later transformed into a simple Kupi Kuli stall. The typical Belitung coffee itself is sold at very affordable prices, from Rp. 3,000 to Rp. 4,000. Belitung which is identical with the people who like coffee indeed makes Andrea then interested to present these specialties in his museum. In addition to relaxing coffee with typical Belitung coffee, in this room you can also send letters or postcards to various countries specifically provided by the Andrea Hirata Word Museum.
Interesting Activities to Do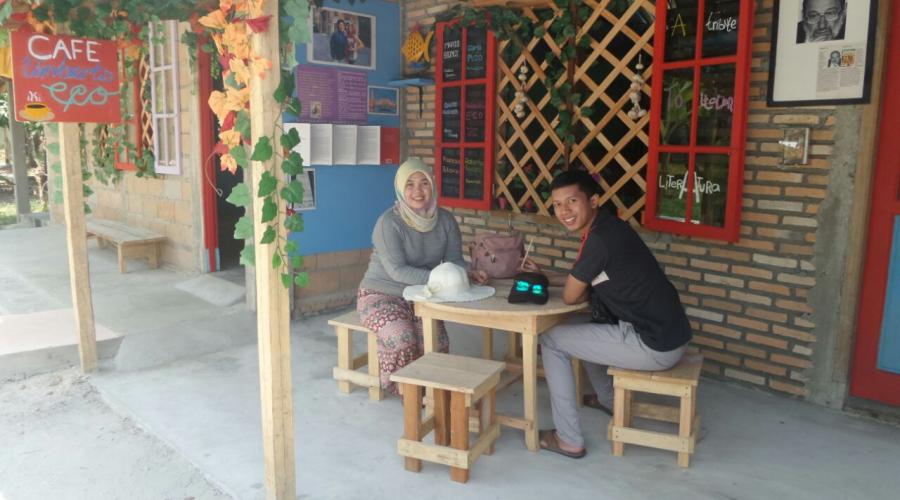 Visiting the Andre Hirata Word Museum will certainly not make you regret it. Because with so many things that are presented it will make you get a lot of memorable things. Especially if you are a lover of literature or a fan of Andrea Hirata's works, the Word Museum will be an appropriate tourist destination reference. Well here are some interesting things you can do at the Andrea Hirata Word Musuem:
 Watch the doors and attractive colorful windows in the front yard of the museum.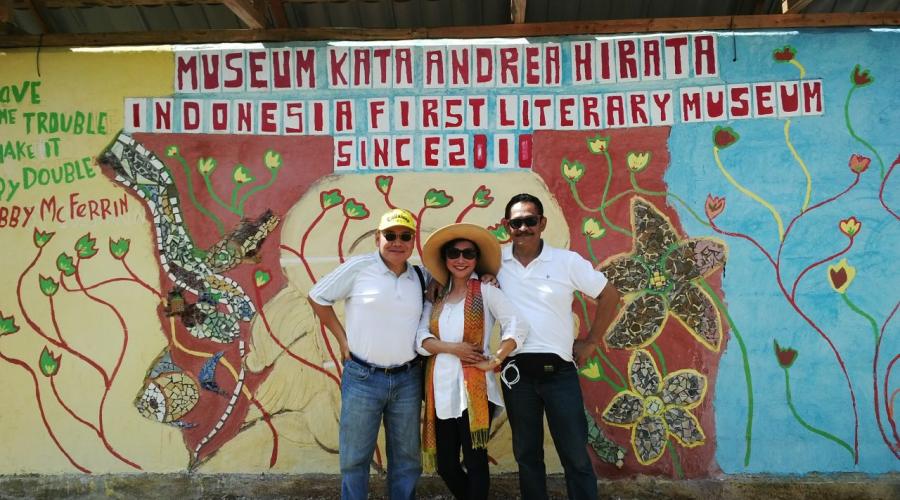  Retrace the story of the phenomenal Laskar Pelangi novel until it is filmed on the big screen.
 Seeing the photos that tell the story of Ikal and his friends in being filmed in Laskar Pelangi.
 Tracing room by room in the museum such as the Laskar Pelangi room, Ikal room, Lintang room and Mahar room.
 Remembering and recalling inspirational words in the story of Laskar Pelangi such as the words "Dream because God hugs your dreams".
 Witnessing the favorite bicycle Lintang used when shooting the Laskar Pelangi film.
 Enjoy typical Belitung coffee while relaxing in the backyard of the museum.
 Send letters or postcards to various countries specifically in the backyard area of ​​the museum.
 Reading Andre Hirata's works in museums in Indonesian or foreign languages.
 See photos of artists who inspired Mahar figures like Rhoma Irama.
 Capture some interesting things in the Word Museum with a camera for mementos.
Andrea Kata Museum The word itself can be visited at Jalan Laskar Pelangi No.7, Lenggang Village, Gantung District, East Belitung Regency, Bangka Belitung Islands. From H.AS International Airport. Hanandjoeddin to the Museum of Kata, you have to travel a distance of 60.2 km which can be reached by road trip by car for approximately 1 hour. The condition of the road leading to the Kata Museum from the Airport itself is fairly good. If you don't rent a private vehicle, you can take public transportation that can take you to the Kata Museum.
Tips on Visiting the Word Museum
To visit the Word Museum comfortably, then you can do or apply the following tips:
1. First, try to read the Laskar Pelangi story first if you don't know it. Because by knowing the Laskar Pelangi story, you can get a deeper impression while in the museum.
2. Second, try to bring a camera. Because here there are many interesting things that you can capture with a camera.
3. Third, don't miss to enjoy the typical Belitung coffee dish which is provided in the back of the museum area so that your vacation here will be more memorable.
4. Fourth, do not make noise while in the museum.
5. Fifth, do not eat and drink in any place, let alone littering.
Destinations Around Andrea Hirata Word Museum
The Kata Museum in East Belitung itself allows you to visit several other destinations such as the Replica of Muhammadiyah Gantung Elementary School which is closely related to the Laskar Pelangi story. To go to this location which is also called Laskar Pelangi Elementary School, you only need to travel a distance of 1.8 km and can be reached in about 5 minutes from the Kata Museum. Do not forget also around Laskar Pelangi Elementary School we can also find a tourist attraction that is no less interesting, namely the House of Belitung Conch. In addition to Laskar Pelangi Elementary School and the Conch House, around the Kata Museum, you can also visit the Pice Dam tourist destination