Visiting the State of Laskar Pelangi on Belitung Island, you can not only explore Tanjung Pandan City. But there are other areas that are not less interesting to visit as a vacation destination in Belitung. Well, one of the areas that you can visit for a vacation in Belitung is Manggar. As the Capital City of East Belitung Regency, Manggar which has the nickname of the City of 1001 coffee shops will present many interesting tourism offerings to be witnessed and enjoyed. Well, here are some tourist destinations that you can visit in Manggar, East Belitung.
1. Nyiur Melambai Beach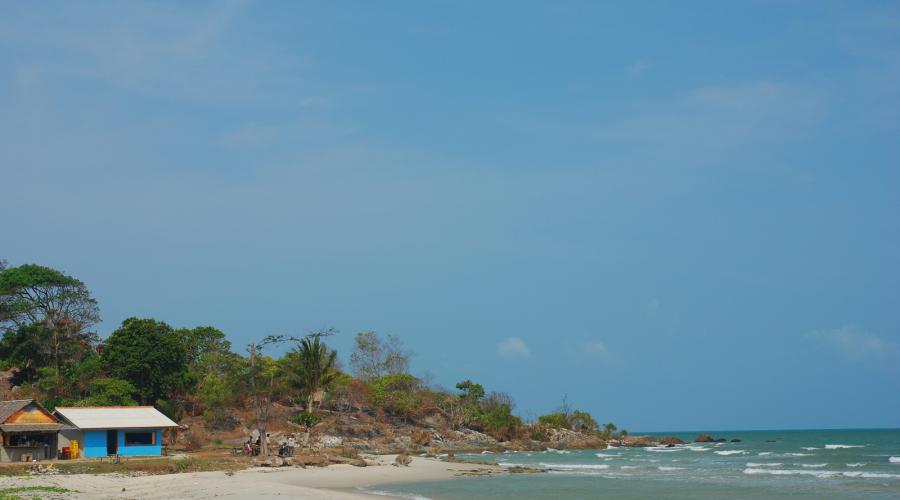 http://www.belitungisland.com
First, an interesting tourist attraction in Manggar that we can go to is Nyiur Melambai Beach. The beach in the village of Lalang until then called Lalang Beach is indeed charming. Because Nyiur Melambai Beach has a natural condition. This can be seen from the water that is still clear and white sand which is soft and clean. Although it does not have granite rocks as in general the beaches in Belitung, but Nyiur Melambai Beach has a dish that is no less interesting. As the name implies, the main treat that is typical of Nyiur Melambai Beach is the number of pine trees which create a waving palm tree due to strong winds. With the state of the waves that are not so big and the contours of a sloping beach, at Nyiur Melambai Beach you can play water or swim optimally. Not only enjoying sea food and waving palm trees, but on this beach we can also take selfies with interesting backgrounds, namely colorful cups. The colorful cups at Nyiur Melambai Beach are themselves icons or symbols of East Belitung especially Manggar as the City of 1001 coffee shops. Because Nyiur Melambai Beach, located in the eastern part of Belitung, in the afternoon we can enjoy a beautiful sunrise dish. At certain times in Nyiur Melambai Beach, we can find art festivals and various competitions.
2. Serdang Beach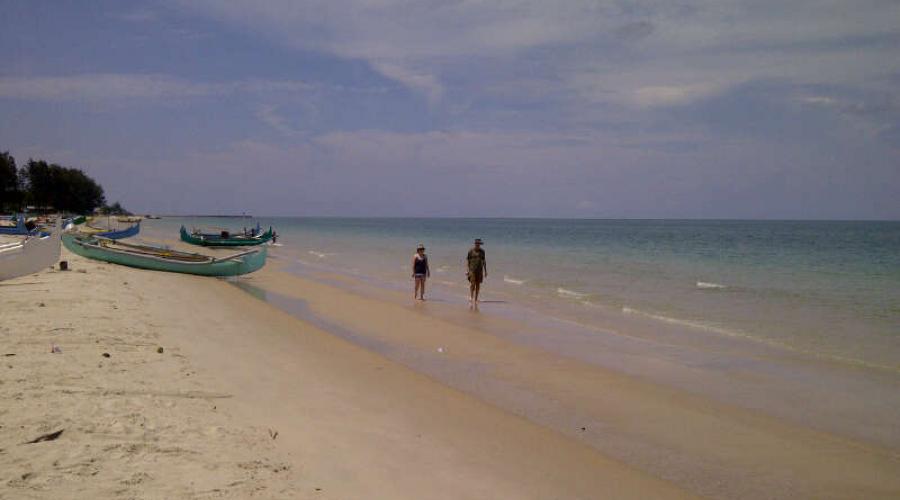 http://www.belitungisland.com
The beach that is not less interesting than Nyiur Melambai Beach that you can visit in Manggar is Serdang Beach. This beach has a feature on the panorama of sea pine trees that grow neatly and lush. Once the lush sea pine trees in Serdang Beach make a sense of shade will be felt when we approach it. When the wind blows on the sea pine trees you will hear a distinctive sound that makes the atmosphere more relaxed. Another interesting thing in Serdang Beach besides the sea pine trees is the colorful katir boat. Katir boat itself is a traditional boat from a local fisherman that is used for fishing. Serdang Beach also has a clean and soft white sand dish. But there is something different about Serdang Beach compared to other beaches in Belitung, which is the big waves. The magnitude of the waves at Serdang Beach is due to this beach which directly faces the South China Sea. Although it was not free to swim, but Pantai Tengah still did not lose its charm. This is evident from the large number of tourists who come to Medium Beach every day, especially on weekends or holidays. If you arrive at the right time to the Pantai Medium there will be a unique festival dish that presents the attraction of a sailing boat. Being on the beach on your own You don't need to worry about how you can fill your stomach. Because here there are many food stalls that present a variety of delicious local food and delicious Manggar coffee drinks.
3. Pulau Limau Book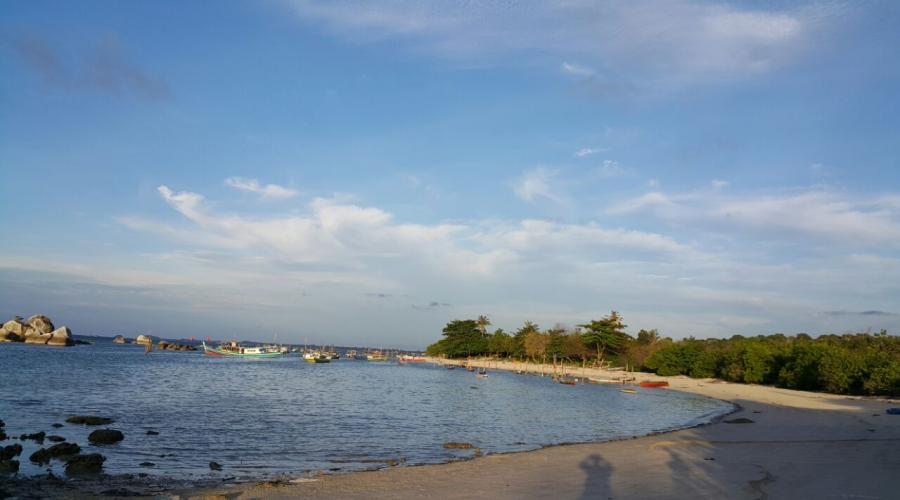 http://www.belitungisland.com
If you have enough time for a vacation in Manggar, then visiting Pulau Limau will be an interesting experience. By crossing using a motorboat from the Manggar River ASDP Port for about 45 minutes, we will arrive at the island in Buku Limau Village, Manggar District, East Belitung Regency. On this 87.75 hectare island we can do interesting exploration activities. The first exploration activity that can be carried out on Pulau Limau Island is beach exploration. The beach on Pulau Limau Island is indeed beautiful and natural. In addition to clear sea water and clean white sand, in the waters around the coast of Pulau Limau we can also find coral reefs that are still sustainable and some beautiful ornamental fish. From this beach treat, we at Pulau Limau Island can do swimming, snorkeling and diving activities. Other exploration activities that can be carried out on Pulau Limau Island are land exploration. In this one exploration we will be able to find some interesting things such as meeting the Bugis tribe. Another thing that we can find in the exploration of land is the fishing activities by men and also the processing of fish that are dried by mothers. Some fish caught by fishermen that are processed and dried are squid, selar, jui and anchovies. Book Limau Island itself has been known throughout East Belitung as the largest producer of salted fish. Interestingly, salted fish in Pulau Limau Book is made without using preservatives. From here, you can also make this typical Salted Book as a souvenir.
4. Bukit Samak Resort A1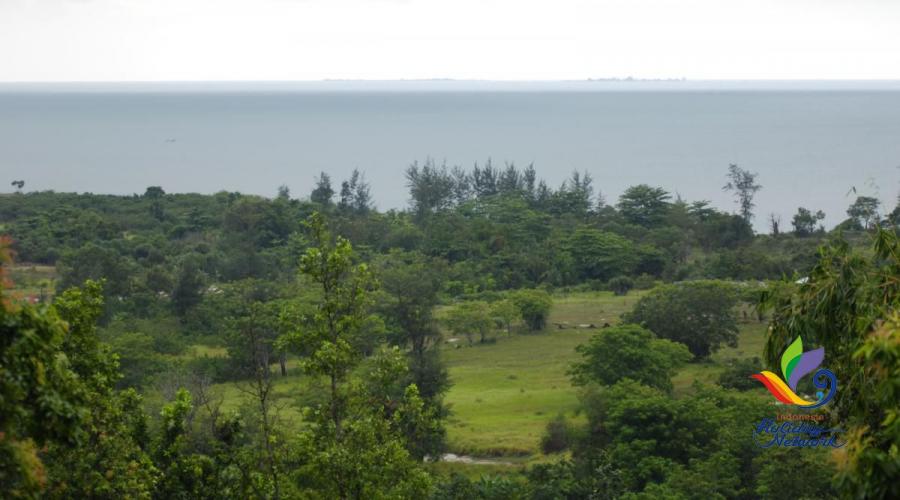 http://www.belitungisland.com
You are a lover of heights tours? Relax in Manggar there is also a hill that you can climb to enjoy the beautiful panorama from its peak. The spot which is near from Nyiur Melambai Beach is called Bukit Samak or there is someone who calls A1 or more complete Bukit Samak Resort A1. Before becoming a tourist destination, Bukit Samak was the residence of Dutch officials and also executives of PT. Lead. This can be seen from the existence of luxury buildings on this hill. But because the Netherlands has been expelled and PT. Bankrupt tin has transformed into a tourist attraction that is managed jointly by the Regional Government and the community. For the existence of a luxury home itself is currently used as official residence for the Regent and Deputy Regent of Manggar Regency. From the top of Samak Hill which has a height of 130 meters above sea level, we can enjoy the panorama of the ocean and the beach. Some of the beaches visible from Bukit Samak are Nyiur Melambai Beach, Olie Pier Beach and Tebing Beach. Not to forget also passing fishing boats and the City of Manggar from the heights can also be seen from the top of this Samak Hill. With the small shady trees around the hill making the observation activities here will feel more comfortable. Of all the offerings and treats of Bukit Samak A1, this place is often visited by young people to take pictures.
5. OWUN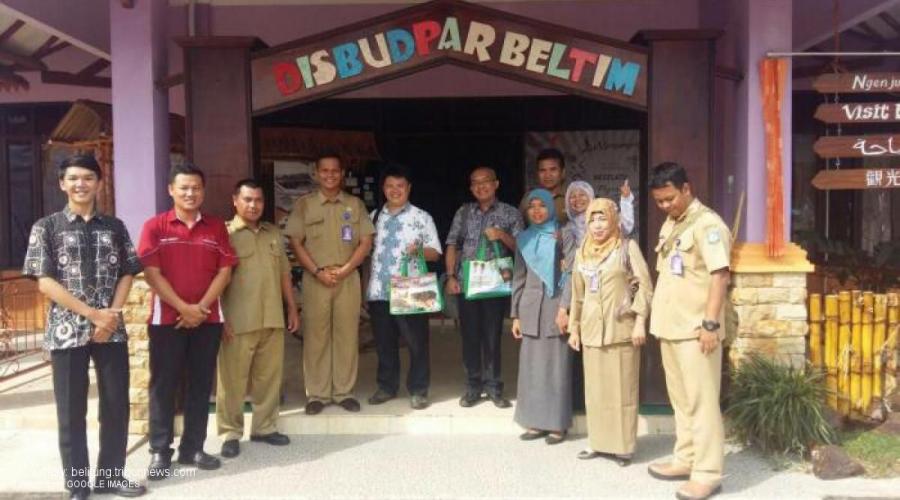 http://belitung.tribunnews.com
Next, interesting tourist destinations that you can visit when you visit Manggar City are OWUN (Ngenjungak Unique Tourism Object). The name Ngenjungak itself is taken from the local language which means to visit and look around to a place with not too long time. As the name implies, indeed we will get something unique here. The uniqueness of the first OWUN is because this tour is in an office of the Culture and Tourism Office (Disbudpar) of East Belitung Regency. The second uniqueness is that OWUN presents educational tourism that is different from tourism in general in East Belitung. So in OWUN which is located at Jalan Manggar Gantung we will get various information about tourism and cultural arts in East Belitung. Some things that we can find at OWUN are photos of Belitung tourism, local handicrafts, pepper and coffee, tin commodities and also animal or animal collections such as Tarsiers, Freshwater Turtles and also Estuary Crocodiles. The Office of Culture and Tourism (Disbudpar) of East Belitung Regency which has been modified for the benefit of OWUN tourism also presents several rooms such as a mini coffee museum room and also a cultural room. The tour which was first opened in 2014 also presents a friendly guide who welcomes you and explains some of the information available at OWUN as well as relating to tourism in Belitung. Interestingly again in OWUN, we can also try some traditional Belitung games such as Cator Bujor, Cator Dam, Balloon Urang and Engrang or Juai. Not to forget the traditional Belitung treatment with reflexology massage can also be tried at OWUN.
6. Olie Pier Beach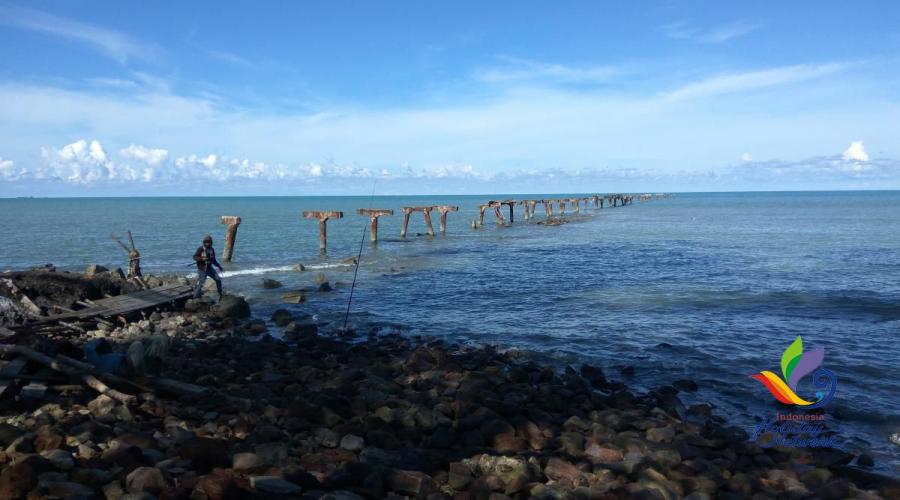 http://www.belitungisland.com
Finally, the tour in Manggar, East Belitung that we can visit is Olie Pier Beach or Olivier Beach. This beach which was once a harbor for tin transport vessels will make you find many interesting stories and stories here. The name Olie Pier Beach itself is taken from the Dutch language where the word Olie means oil and Pier which means harbor. Traces of the activity of the pier on the Olie Pier Beach can still be seen until now from the 200 meter long wooden bridge which jutted into the sea and the tip is hidden behind a bush. The wooden bridge which is now often used as a fishing spot is now a silent witness to the Port or the Olie Pier Pier which was once very busy with fuel-filled activities. The beach in Lalang Village, Manggar Subdistrict, East Belitung Regency, Bangka-Belitung Islands is indeed known as a beach with a long history. Being here accompanied by a guide, we will open up the memory of the Port of Olie Pier which was founded by a Dutch company named NV Billiton Maatschappij. Ships that will carry tin mining products will certainly need fuel oil. Now to refuel the existing ships must lean on the Port of Olie Pier. Not only tin transport vessels, but several company vehicles will also come to this port if they need fuel oil. In addition to the story and history of the Port of Olie Pier, at Olie Pier Beach we can also find beautiful sunrise views in the morning. Besides the calm atmosphere of the beach because there are not many tourists who come to make Olie Pier Beach is perfect for you who want to relax and relax.