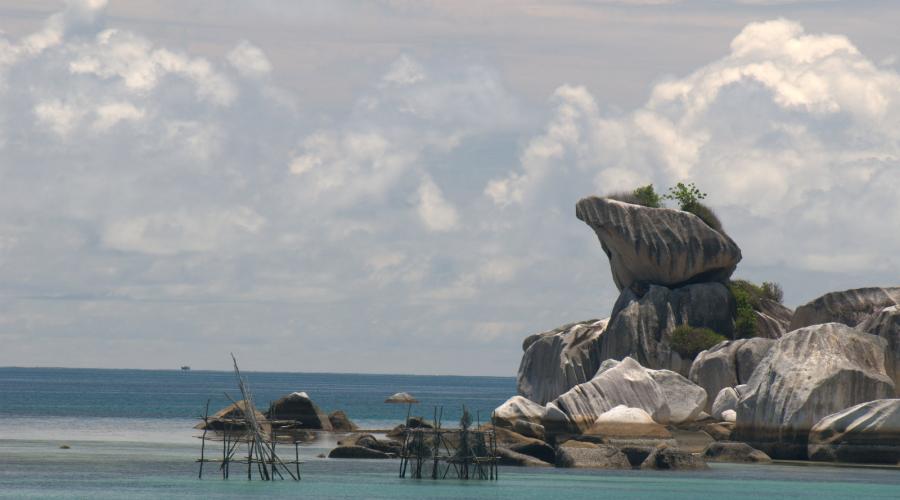 Batu Garuda Island is an island in Belitung that is unique and interesting to visit. Why is that? Because here there is a unique granite rock that is very charming to watch. Named Garuda Stone Island because here we can indeed find a granite shaped like an eagle. Although only visible part of the head alone, but the natural formation of granite is so unique to watch. From here the small island located 300 meters from Tanjung Kelayang Beach is always crowded with tourists. For those of you who are also planning to go to Batu Garuda Island, then try to schedule some activities there. Because, there you can indeed do some interesting activities if you want to plan it. Well, here are 6 interesting activities that you must schedule when visiting the Garuda Rock Island.
1. Take pictures or documentation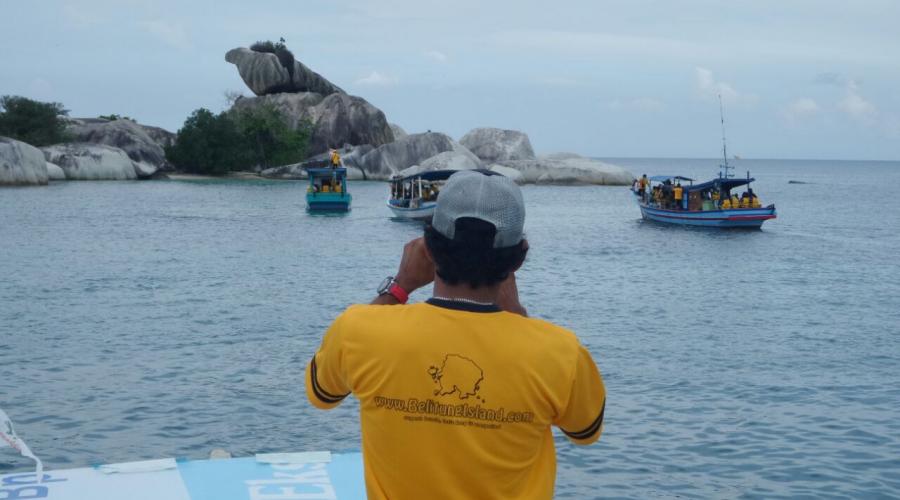 https://belitungisland.com
First, an interesting activity that you must schedule when going to Batu Garuda Island is taking photos or documentation. This one activity has always been the main agenda that travelers have never missed. This is because Batu Garuda Island is one of the intagramable destinations in Belitung. By presenting a unique granite rock with the shape of the Garuda bird's head, there are indeed many people who do not want to miss the moment to take pictures on this island. With any documentation model whether it's a photo or video, surely Batu Garuda Island is always enchanting to be immortalized. To get the best picture of the formation of granite on Garuda Island, you can take it from several angles or spots. First, the photo spot on Batu Garuda Island itself with the results of a closer picture. If you want to get a wider picture then you have to take it from a far angle. Well for this, it is not uncommon for some tourists to take pictures from the boat before reaching the island.
2. Swim and Play Beach Sand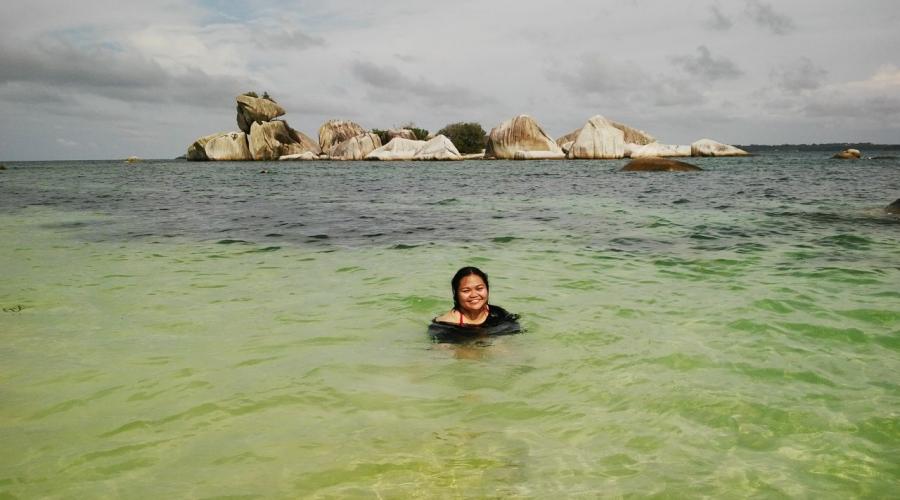 https://belitungisland.com
Next, interesting activities that you should not forget when visiting Batu Garuda Island are swimming and playing beach sand. With clear waters and waves that are not too big, it certainly makes making the activities of playing water and swimming on the Garuda Rock Island always fun. You do not need to hesitate to jump into the waters and wet yourself because here you will not find dirty water. Even so clear the waters on Batu Garuda Island, we can see the seabed clearly. Besides playing water and swimming, on Batu Garuda Island you can also do beach sand playing activities optimally. This is because in Batu Garuda Island we can find white, clean and fine sand beaches. Even though the area is not too wide which is only 50 square meters, but with the characteristics of the sand beach as mentioned, then you will be able to play beach sand with optimal pleasure.
3. Enjoy the view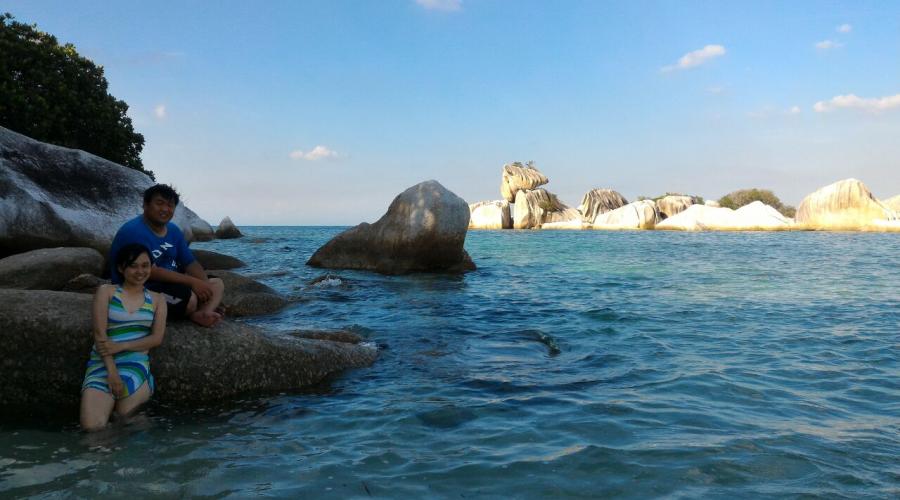 https://belitungisland.com
If you are satisfied with the panorama of Tanjung Kelayang Beach and want to get the view from another perspective, then watching it from Batu Garuda Island is the best option. Because here you can see different panorama of Tanjung Kelayang Beach waters. The panorama that we can find on Batu Garuda Island itself is quite charming. Because in addition to a wider view of the waters, here we can also find views of smaller islands from a shorter distance. Especially if you come here in the late afternoon, there will be a beautiful and enchanting sunset view to watch. Do not forget also some of the views from the ship and some fishing boats that pass by at sea or take tourists on island hopping. Not only the scenery in the morning, afternoon or evening are presented interestingly by the Garuda Stone Island. Because, at night we can also see the cool scenery of the colorful Batu Garuda Island due to the presence of several solar powered lights installed by the Belitung Regional Government.
4. Trekking Through the Island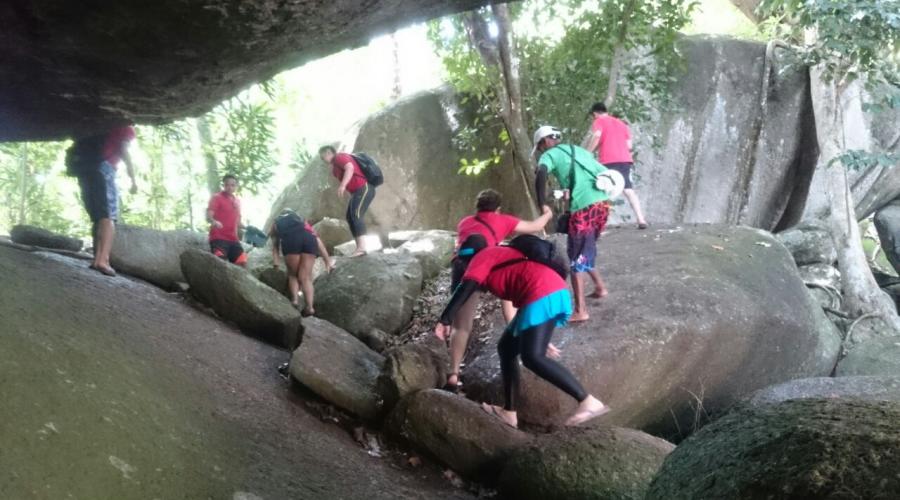 https://belitungisland.com
Furthermore, an interesting activity that you must do when you go to Batu Garuda Island is trekking along the island. In Batu Garuda, there are indeed many interesting things that can be found. Not only granite shaped head of the eagle, but here are some other things that are worth exploring. From here, trekking along the island will be a very optimal activity to do. Some interesting things besides granite shaped like an eagle's head that can be found here include caves and ponds. The caves in Batu Garuda Island itself are unlike other caves. Because the cave here is formed from granite which is arranged in such a way as to form a room like a cave. Because it is not too tight, then the cave on Batu Garuda Island, we can still find incoming sunlight. Not only that, in this cave there are waters from the sea that enter so that we can soak in it. Meanwhile, the lake that is here is called the lake angel. In this naturally formed lake we can soak and swim optimally and feel deeply satisfied.
5. Island Hopping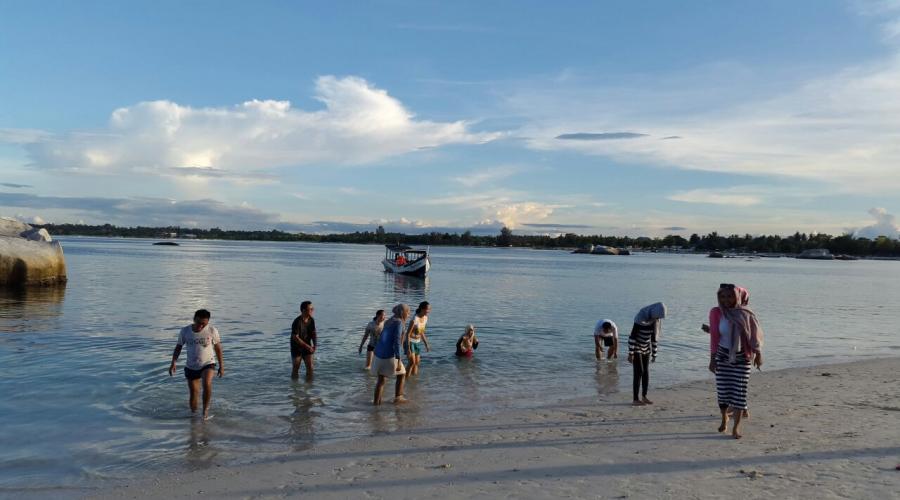 https://belitungisland.com
Batu Garuda Island which is located in the Tanjung Kelayang Beach area is indeed surrounded by several small islands around it. So from here then from Batu Garuda Island or from Tanjung Kelayang Beach, many tourists do island hopping. Island hopping itself is an activity down the small islands by boat. Batu Garuda Island itself is one of the small islands which is an island hopping destination. But after from Batu Garuda Island, you can continue your island hopping trip to several other small islands such as sand island, galangal island, kepayang island, sailing island and others. Of course the exploration of the island in the concept of island hopping will really make you get a deep impression on a vacation to Belitung in general and to Batu Garuda Island in particular.
6. Relax and Relax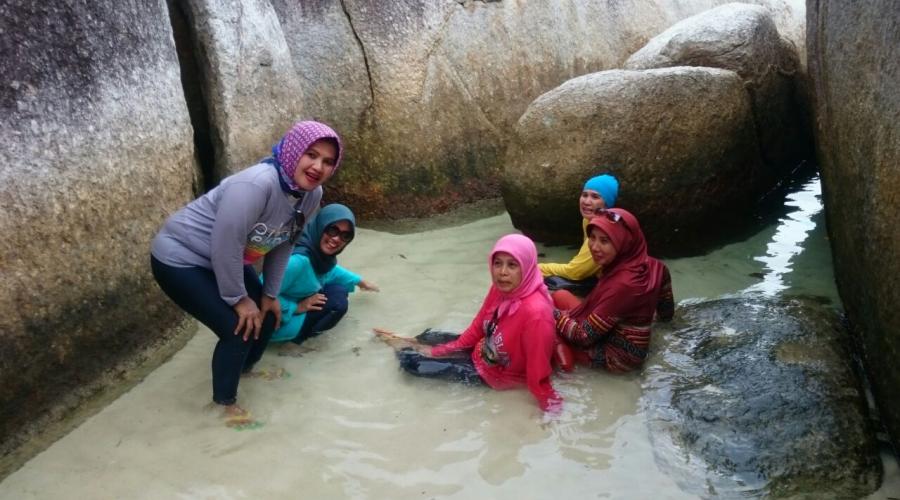 https://belitungisland.com
Finally, an interesting activity that you must do when you go to Batu Garuda Island is relax and relax. This uninhabited island will indeed be a very qualified place for leisure activities. Because here the atmosphere is calmer with the support of a soothing view of the heart. From here, those of you who do leisure activities on Garuda Island will get a deep impression. For a relaxing agenda on Batu Garuda Island, you can do it in several spots such as the edge of the island, on granite rocks while enjoying the view or in the lake of angels while soaking. By relaxing on Batu Garuda Island, all the saturation and fatigue that you feel will immediately disappear and disappear.