As an area with growing tourism potential, Belitung Island is certainly very qualified to be a vacation destination or destination. The attractiveness of the island, dubbed the country of the rainbow irregulars, always invites admiration. Not too much if then a lot of media that cover several tours on the island of Belitung. With the charm of nature that is still natural, we will be treated to many things that captivate the heart. One of the natural charms of Belitung that is natural and enticing to visit is a tourist attraction with beautiful granite rocks. Granite rocks in Belitung are indeed not ordinary stones. Because with its large size and diverse shapes make the view presented by granite rocks is very riveting. Therefore you are on holiday to Belitung, so some of the attractions with granite rocks should not be forgotten.
1. Batu Berlayar Island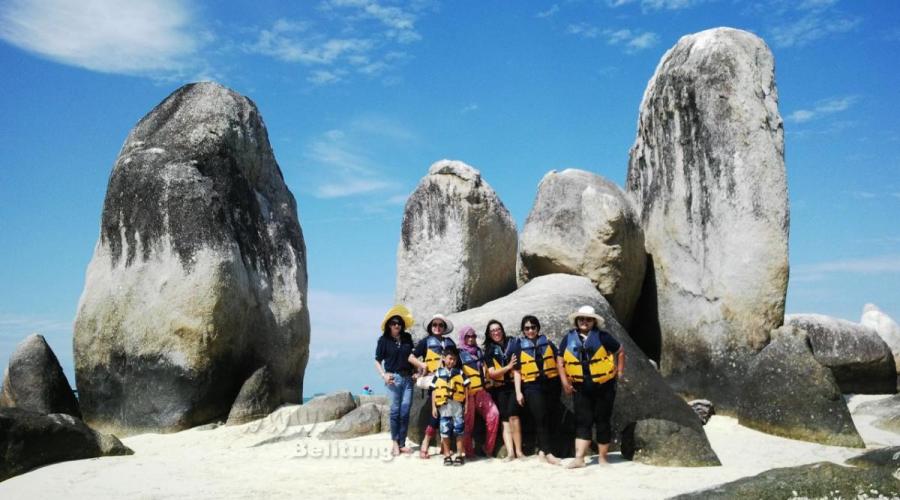 http://www.belitungisland.com
The first tourist attraction that presents a charming granite dish is Batu Berlayar Island. Named Pualu Batu Berlayar because here we can find a main granite that stands tall and rigid like a ship that will stretch a sail. The two main stones of granite seen as part of the ship that stretched the sails were indeed the most prominent. Because the main granite is large and has a height of 10 meters. If these two main granites are considered as a part of the ship that will stretch the sails, then the ship itself is considered a small white sandy island. On the small island located to the west of Tanjung Kelayang Beach, we will also find some other granite rocks that are not interesting. Like the granite rocks on the edge of the island that are shaped like shark fins and shark teeth. Because of the interesting granite rocks which are partly covered by sea water, it is not uncommon for tourists to capture them with a camera. An island that can only be visited when the sea water recedes in the afternoon will really make you amazed. Because besides being very natural with clear water and clean white sand, we will also feel the sensation of having a private island, because there are no people living here.
2. Tanjung Tinggi Beach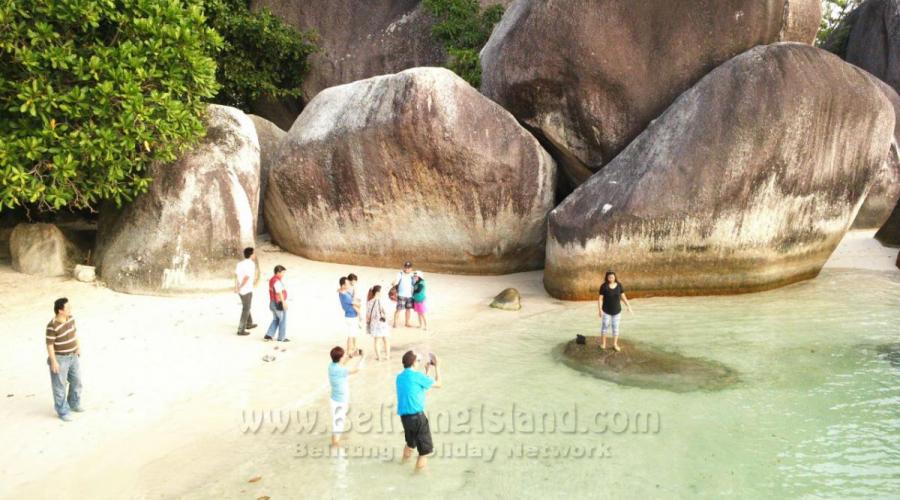 http://www.belitungisland.com
Next, a tourist destination in Belitung that presents a beautiful granite dish is Tanjung Tinggi Beach. Named Tanjung Tinggi Beach because it is located on a peninsula and has high granite rocks. The beach which is 31 km from the city of Tanjung Pandan to the north is indeed known as the beach with the most granite rocks. This is because on the beach area of 80 hectares scattered hundreds of granite stones with various shapes and sizes that are as big as houses. Besides serving granite rocks on the beach which was once a fishing port, we can also find exotic white sand and clear water. Some even say that the water at Tanjung Tinggi Beach is the clearest of all the other beaches in Belitung. With calm waves, at Tanjung Tinggi Beach you can swim, snorkel or dive around the beach waters comfortably. You just have to be aware of the jellyfish attack when swimming. The scenery that you must not forget here is when the sun will set in the western horizon which presents the beauty of the sunset paorama. Because of the beauty of Tanjung Tinggi Beach, this later made it a filming location for the film Laskar Pelangi and Sang Pemimpi. From there then some people call this beach as Laskar Pelangi Beach.
3. Batu Garuda Island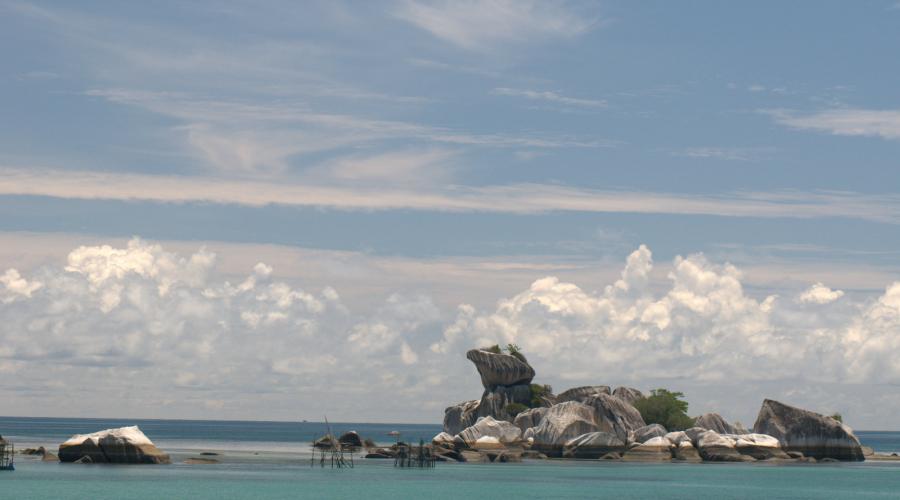 http://www.belitungisland.com
Batu Garuda Island is an island off the coast which now attracts many tourists to visit it. Curiosity about the existence of granite rocks with unique shapes on this island is the reason why more and more tourists are coming to visit the island which is also called Bird Island or Garuda Island. As the name implies, on the island we will find an island with granite rocks shaped like an eagle (head of eagle). Granite rocks here are indeed tangible head of the eagle formed naturally (not engineered by humans). From the uniqueness of the form of granite rocks that make Batu Garuda Island very interesting to visit. In addition to the unique granite rock with the shape of the head of an eagle, on the island that can be taken for 10 minutes from Tanjung Kelayang Beach, we can find offerings of clean white sand and clear waters. The main activity of tourists on the island covering an area of 50 square meters is taking photographs. Because the uniqueness of granite rocks in the form of the eagle's head makes the images obtained from these photography activities will be very charming. In addition, from the calm waves, tourists can swim comfortably on this island.
4. Tanjung Kelayang Beach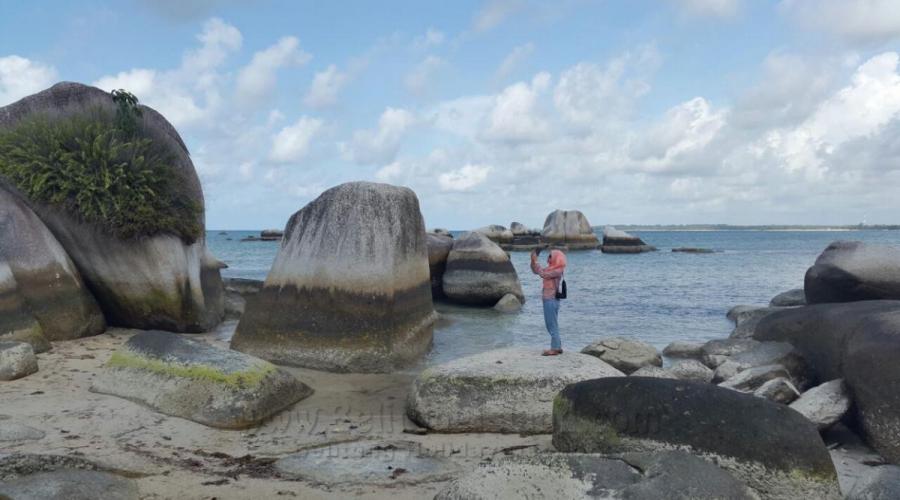 http://www.belitungisland.com
This beach is no less popular than Tanjung Tinggi beach. This is because Tanjung Kelayang Beach has been established by the government through the Ministry of Tourism as a Special Economic Zone (KEK). Until 2016, the Tanjung Kelayang Coast SEZ is the 9th set by the government. With the establishment of Tanjung Kelayang Beach as a KEK, tourism activities here will be very good for anyone who comes. Besides being determined by KEK, in 2011, Tanjung Kelayang Beach was also used as a location for Sail Wakatobi Belitong. Being in Tanjung Kelayang Beach which is also used as a filming location for the Laskar Pelangi film makes us find many presentations. The first dish is granite rocks of various sizes and shapes, including giant ones. Besides that, on the 324.4 hectare beach we will also find clear water and clean white sand. In addition there is also a bridge built here for tourists to see the view of Batu Garuda Island which is located not far from Tanjung Kelayang Beach. From this bridge tourists can also do fishing activities.
5. Tanjung Kiras Beach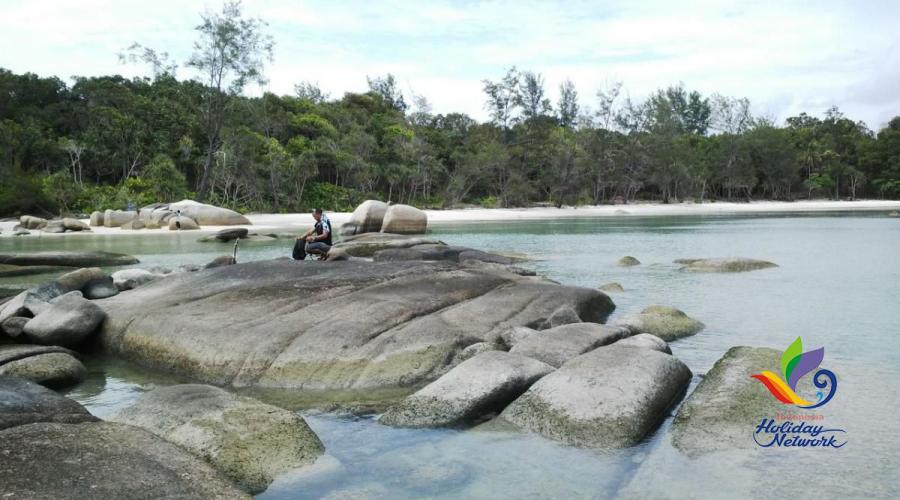 http://www.belitungisland.com
If you are a person who likes peace and tranquility while on a vacation to the beach, then Tanjung Kiras Beach is the right choice. Like Tanjung Tinggi Beach, Tanjung Kiras Beach also has beautiful granite rocks. Some of the granite rocks at Tanjung Kiras Beach also have a large size. Granite rocks at Tanjung Kiras Beach itself are combined with clean white pasit and clear sea water. With the calm waves, at Tanjung Kiras Beach you can freely swim or do snorkeling. At Tanjung Kiras Beach we will also be treated to a beautiful view of Seliu Island, especially when in the afternoon with a beautiful blend of sunset. But the specialty of the beach which is located in Tanjung Kandis Village, Membalong District, Belitung Regency is the natural, calm and peaceful atmosphere. Even when you are here, you will feel the sensation of having a private beach. This is because the beach, also called Awan Mendung Beach, is far from the center of the crowd. Even so hidden the beach makes you who want to come must pass through a forest area with high trees and tight. Because it is so natural and private, Tanjung Kiras Beach has nicknamed it The hidden and virgin beach.
6. Bukit Batu Baginde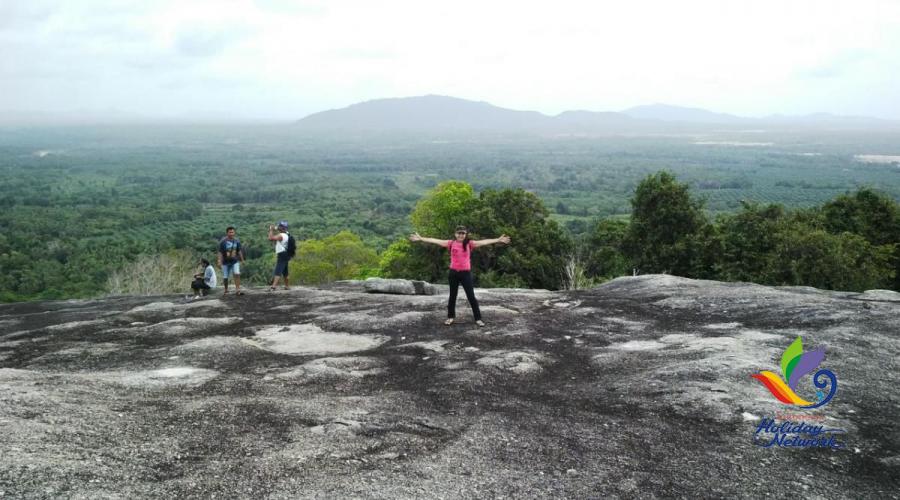 http://www.belitungisland.com
From the island and the coast we head to the mainland. Yes, we can also find granite rocks in Belitung in the middle of the mainland, namely in Bukit Batu Baginde. Named the hill because of the size of the Stone Baginde reaches a height of 250 meters above the ground. With a diameter of 1.5 meters, we will be quite free to move on the Bukit Batu Baginde. This destination, which is often called Bukit Baginda, is indeed interesting. Because here we will be treated to serving granite rocks with giant size and soaring to form a hill. At the Bukit Batu Baginde location itself we will find two large granite stones adjacent to which are believed by local residents to be a male and female gender. Some other beliefs from the community believe that the location of Bukit Batu Baginde is a sacred place. This is evident that there are some people who come here to dignify to seek pesugihan. But behind it all, the beauty of Baginde Hill Stone will leave you stunned. How not, here in addition to witnessing giant granite rocks, we can go up to see the beautiful scenery of the sea, beach and also the atmosphere of the village of Padang Kandis. Especially if you come here in the morning or evening, there will be a beautiful sunrise and sunset dish to be watched from the top of Batu Baginde Hill.
7. Bukit Batu Beach

http://www.belitungi
Finally, a tourist destination in Belitung with a beautiful granite dish that is very qualified to be visited is Bukit Batu Beach. The beach which was built in 2004 and is owned by Basuki Tjahaja Purnama (Ahok) is indeed interesting because besides being very beautiful it also has two main dishes. The two main dishes that we can enjoy at Bukit Batu Beach are beaches with granite rocks and also white sandy beaches. The beach hidden behind the hill is still beautiful, natural and soothing. From here, at Bukit Batu Beach we can enjoy optimal leisure and relaxation activities. Not only relaxing, swimming and playing with sand, but at Bukit Batu Beach we can also see a large rock called Batu Betarak. Batu Betarak is somewhat unique because it looks like someone who is praying. From this, many people refer to Batu Betarak as the Praying Stone. Another interesting activity that can be done at Bukit Batu Beach is finding gelatin seaweed that is rarely found on Belitung Island. To see a wider view, you can also go up to a hill not far from Bukit Batu Beach. With this stilt house on a hill, your panoramic observations will feel very comfortable.