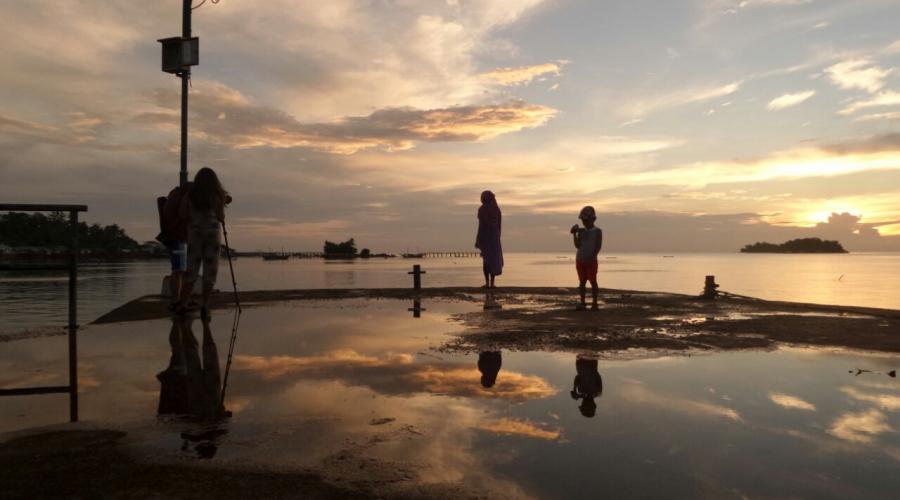 Located near the center of Tanjung Pandan City as the Capital of Belitung Regency, Tanjung Pendam Beach will be very interesting to visit. Especially for those of you who don't have much time in Betitung, then coming to Tanjung Pendam Beach will be the best choice. Although it has a non-sloping beach, but the beach which is in a concrete wall along the beach is always crowded, especially in the afternoon. Not only to relax and enjoy the sunset, but the people who come to Tanjung Pendam Beach have several separate agendas. The many activities that can be done at Tanjung Pendam Beach due to the many interesting things that can be enjoyed by the visitors. Then what are the various interesting things that can be done at the Tanjung Pendam Beach. Here is the review.
1. Beauty in the Middle of the City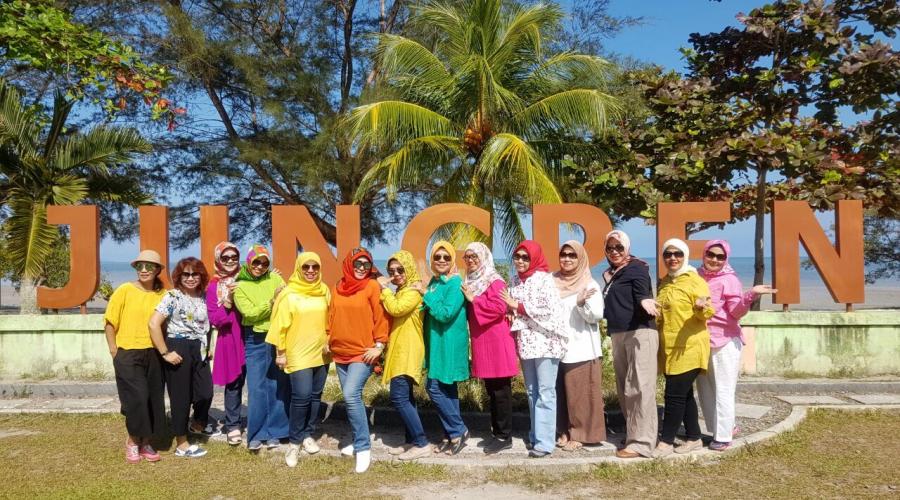 Tanjung Pendam Instagramable
The first interesting thing that can be found at Tanjung Pendam Beach is the beauty of the city center. Urban areas are synonymous with areas that have minimal green areas and beauty. But at Tanjung Pendam Beach you can get a real beauty. Even though we are in the urban area of Tanjung Pandan, we can feel the beauty of Tanjung Pendam Beach. This can be seen from the many parks and trees that are green, beautiful and shady. Apart from the good green area, at Tanjung Pendam Beach we can also find beauty from the waters. The waters on Tanjung Pendam Beach are still well maintained. Although many visitors come, but here we can find waters that are still clean and clear.
2. Waves that are not too big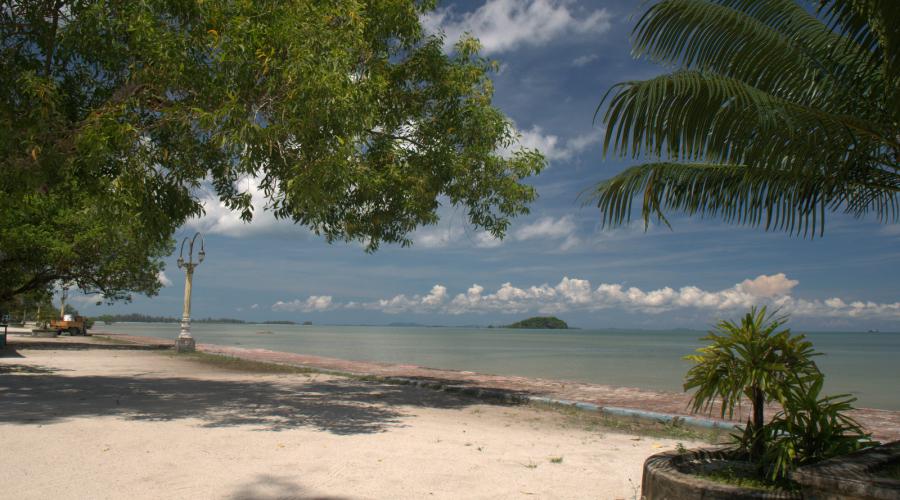 Pantai yang cukup Fotogenic di Belitung
Large waves will often interfere with our comfort while at the beach. But not with the waves that are not big and calm. With waves that are not too big then we will be able to more freely to move on the beach. Swimming, playing water or playing on the beach are some of the activities that we can do well if the waves are not too big. Well, in Tanjung Pendam Beach, we will be able to do various activities freely because the waves here are not too big.
3. Exotic White Sand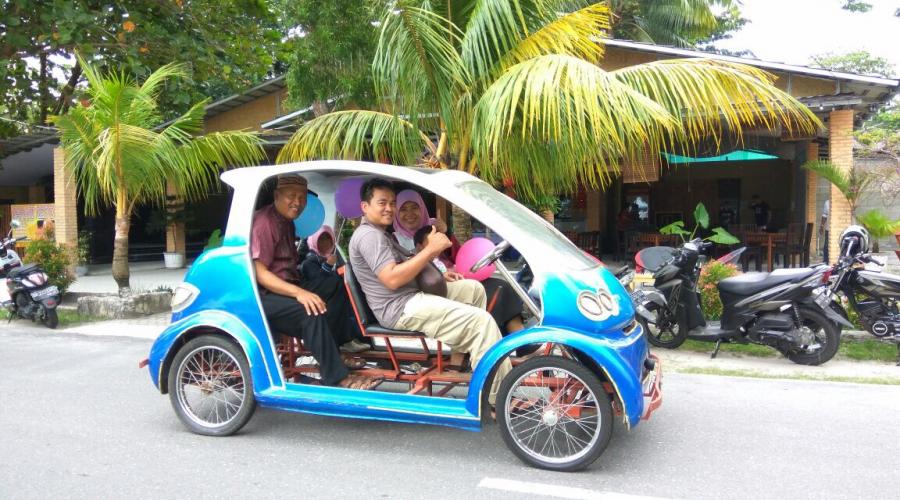 Tempat mengajak anak dan keluarga
One of the dishes that visitors always love is the white sand. White sand on the beach really spoil the eyes when viewed. Especially if the white sand that has fine and clean characteristics, the more attractive the beach will be. Well, at Tanjung Pendam Beach, we can find white sand beaches with characteristics as already mentioned. With the exotic white sand, you can play beach sand cheerfully and exciting in Tanjung Pendam Beach.
4. Sunset During the afternoon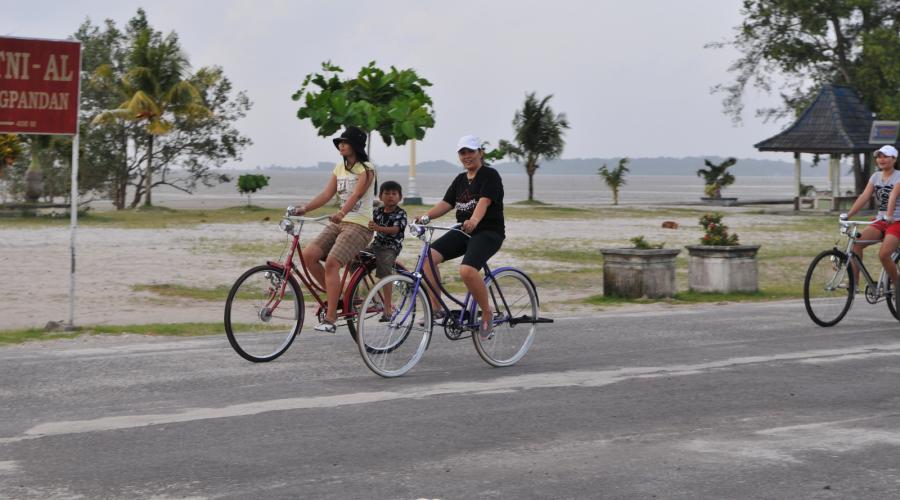 Tampat tampil modis dan bernuansa seni
Sunset or sunset is one of the natural phenomena that people like. By watching the sunset in the afternoon, your heart and soul will become more calm and peaceful. In addition to making a calm and peaceful heart, sunset can also get you the best pictures when captured with a camera lens. Well, at Tanjung Pendam Beach we will be able to find a very beautiful sunset. The position of Tanjung Pendam Beach directly facing West makes the sunset here look so clear and charming. Once the panoramic sunset is so special, some even say that Tanjung Pendam Beach is the best place to see the sunset in the Pacific Islands. To watch the sunset on Tanjung Pendam Beach itself many areas that can be used as a place to see it. In addition to the shoreline area, you can also watch this beautiful sunset in some food stalls or also on the concreted beach.
5. Artshop and Cultural Fetival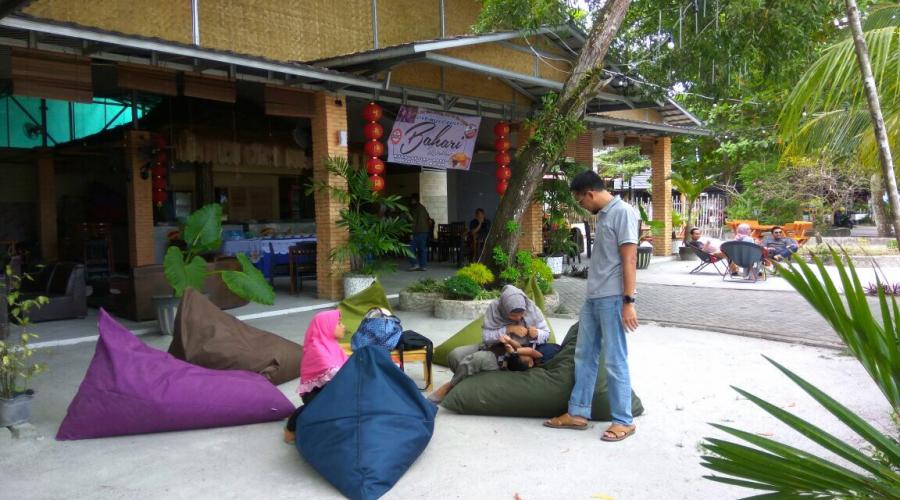 Suasana Santi dengan Aneka Pilihan Kuliner
The special thing about Tanjung Pendam Beach that is difficult to find on other beaches in Belitung is that there are some interesting shows along the coast. Some interesting shows on Tanjung Pendam Beach itself are managed by the Belitung Regency Tourism Office. Call it like an artshop or gallery of handicrafts and paintings and art shows. At certain times, Tanjung Pendam Beach will indeed hold several performances such as cultural festivals, kite festivals and also beach sports events. At certain times it is also not uncommon at Tanjung Pendam Beach that we can find live music. Not far from the port of Tanjung Pendam, we can also find former relics from the sawang tribe and the Kingdom of Badau.
6. A view of Kalimua Island and also the people who are looking for gravestones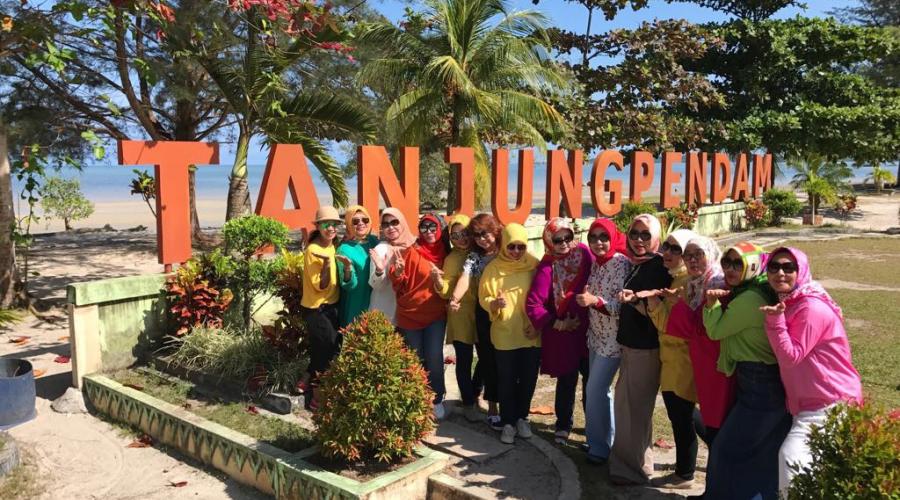 Tempat berfoto
Facing the beach front, we can also see views of Kalimua Island. The island of Kalimua itself is an island believed to be an island to get rid of bad luck by Chinese citizens. Another interesting spectacle that we can find when exploring Tanjung Pendam Beach is people who are looking for gravestone, which is a kind of sea worm. The way to find the gravestone itself is unique because this animal hides in the sand beach. Therefore, to get it citizens must fishing out of the gravestone from the hole by using whiting with broom sticks or yarn as a fishing tool. Of all the things we can find while trekking or walking along the beach area, then we will not get bored quickly when we are in Tanjung Pendam Beach.
7. A place to relax and relax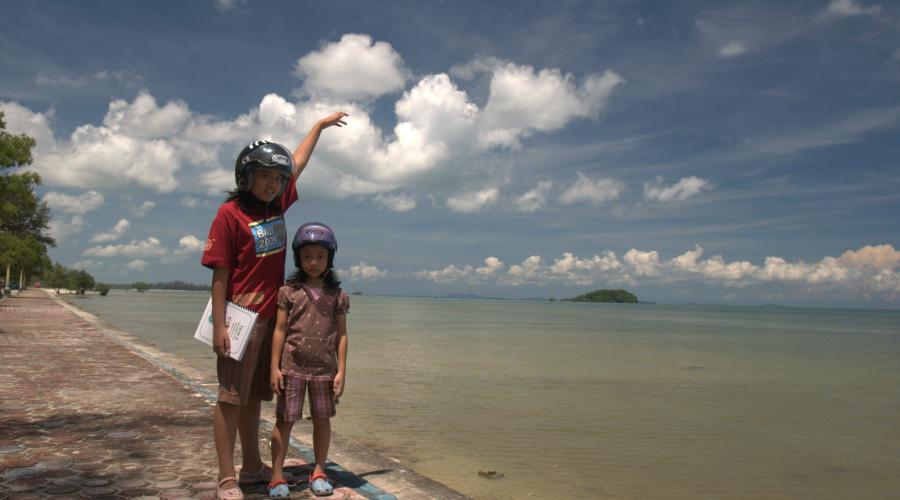 For those of you who want to let go of saturation and fatigue after a day of going through the agenda in the City of Tanjung Pandan, then coming to Tanjung Pendam Beach is the right option. With the distance that is not far, on this beach all the saturation and fatigue will soon disappear and disappear. This is because Tanjung Pendam Beach is indeed very qualified for a place to relax and relax. With the support of the breeze, you can relax on the beach while enjoying the view. If you want to avoid hot weather, then relax on Tanjung Pendam Beach in the afternoon or at night is no less qualified. Because in the afternoon you can relax more optimally because of the beautiful sunset views. Whereas at night, you can relax in the stalls or restaurants while listening to live music. With complete facilities including lodging or hotel, then you don't need to worry if you spend the night when you relax at Tanjung Pendam Beach at night.
8. Culinary and Souvenir Place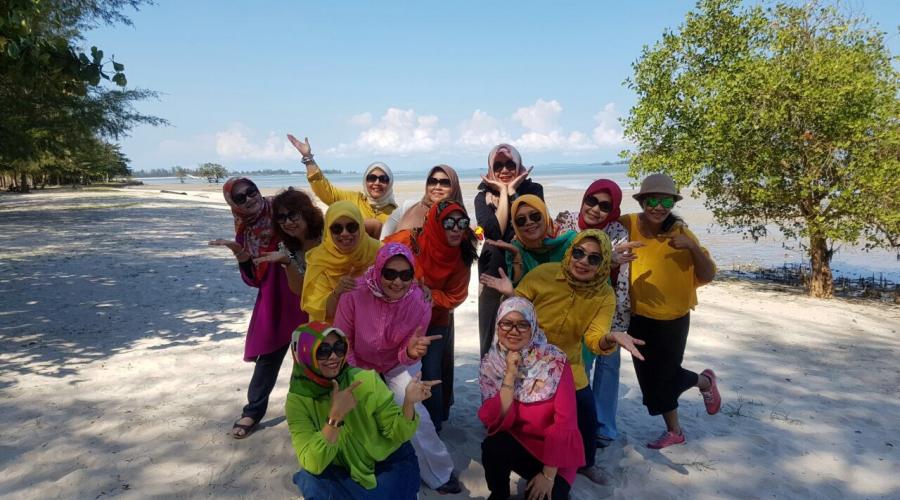 Finally, interesting things that we can find in Tanjung Pendam Beach are culinary places. Here we can indeed find many stalls and restaurants that present a variety of delicious culinary. In addition to seafood menus, in some of these culinary places, we can also enjoy Belitung's special menus such as delicious and tasty gangan. Don't forget to go home to shop for souvenirs and souvenirs such as bahar roots, breadfruit chips, typical Belitung shirts and others around Tanjung Pendam Beach.