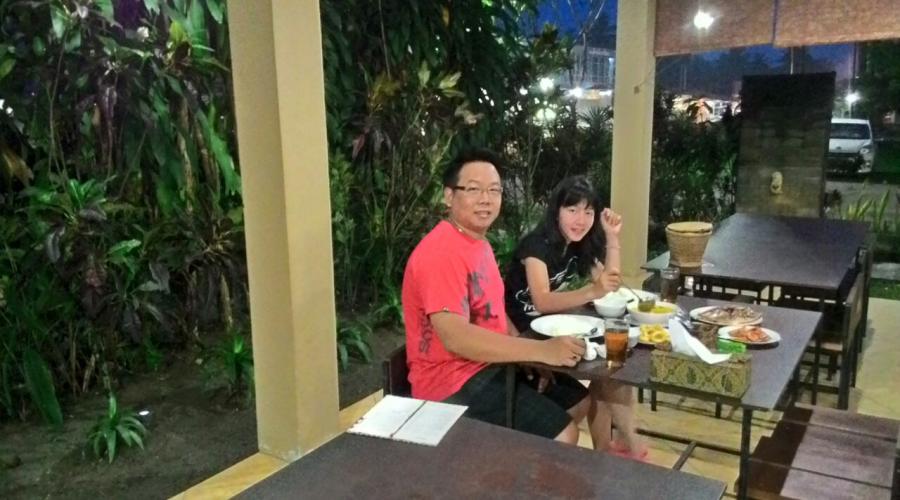 When on vacation or traveling to an area, of course there will be food or culinary specialties that can be found. Therefore when we come on vacation to an area and do not taste the typical food there will be something lacking. Belitung as a tourist destination that is now being targeted by many travelers also has some local specialties. For this reason, when you come to Belitung it will be very unfortunate if you miss the local culinary delights. But so you get satisfaction while enjoying this culinary you must not forget to look for the best dining places. So here are some recommendations for the best eating places in Belitung for those of you who are on vacation to the Laskar Pelangi country.
1. Kampoeng Dedaun Restaurant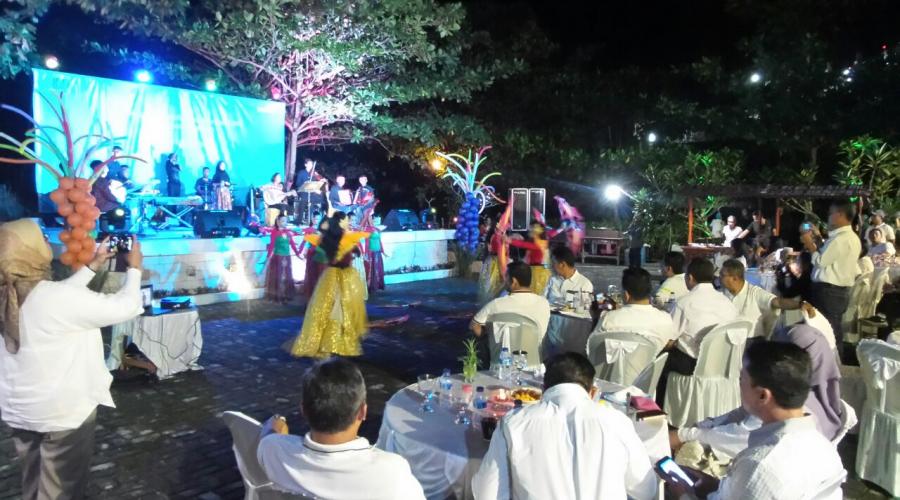 https://belitungisland.com
First, the best restaurant in Belitung that will bring satisfaction to you is Kampoeng Dedaun Restaurant. The restaurant located on Jalan Raya Sijuk, Tanjung Tinggi, Sijuk District, Belitung Regency will indeed be the right choice. Because here you will find culinary satisfaction. Here you are not just just culinary. With an open restaurant design and supported by the atmosphere of the surrounding beach, then you can feel a deep impression. Not only that, in this restaurant we can also find a stage that is usually used for shows. Not to mention there is also an open park which is often used for barbecues at night. With all of this, of course, not only the satisfaction you can get, but there will also be beautiful memories attached. For your own type of culinary that you can enjoy in this Kampoeng Dedaun Restaurant is quite varied. In addition to typical Belitung sea menus, here you can also order other Indonesian national menus. For those of you who want to enjoy a more exciting and special culinary way at Kampoeng Dedaun Restaurant, you can book a place in the park area by holding a barbecue party at night. With the musical accompaniment, the barbecue party that you hold will feel even more lively. In this barbecue party at Kampoeng Dedaun Restaurant, you can also complete it with lighting, bonfire, lantern release and fireworks attractions that will make the culinary impression deeper.
2. Belitung Noodle Atep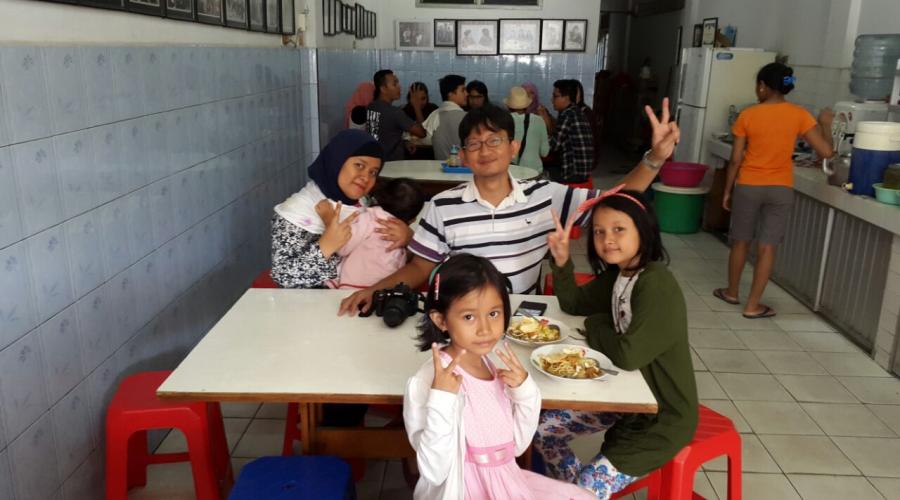 https://belitungisland.com
Next, a restaurant that you must not miss when visiting Belitung is Mie Belitung Atep. Located on Jl. Sriwijaya No.27, Parit, Tj. Pandan, Belitung Regency, of course this location will be very easy to reach from the center of Tanjung Pandan city. The exact location of this restaurant is near the Batu Satam Monument. Belitung Noodle itself is one of the most popular culinary in Belitung. Now to enjoy it, Belitung Noodle Restaurant will be the right choice. This Belitung Mie Belitung restaurant already has a name among tourists. This is because Mie Belitung Atep restaurant is often used as a destination for tour and travel operators in its itenary. As the name implies, then at the restaurant we will find the main menu namely Belitung noodles. With a savory taste because of the shrimp sauce on the Belitung noodle menu, it will certainly make you satisfied while enjoying it. Belitung Atep Noodle itself consists of several compositions such as noodles, tofu, potatoes, chips, shrimp and timyun. And this Belitung noodle menu will be even more special if you complete it with Key Orange Ice. Ice made with Key Orange Syrup which is a typical gift of Belitung, will certainly make your culinary activities at the Mie Belitung Atep Restaurant feel memorable.
3. RM. Ketapang tree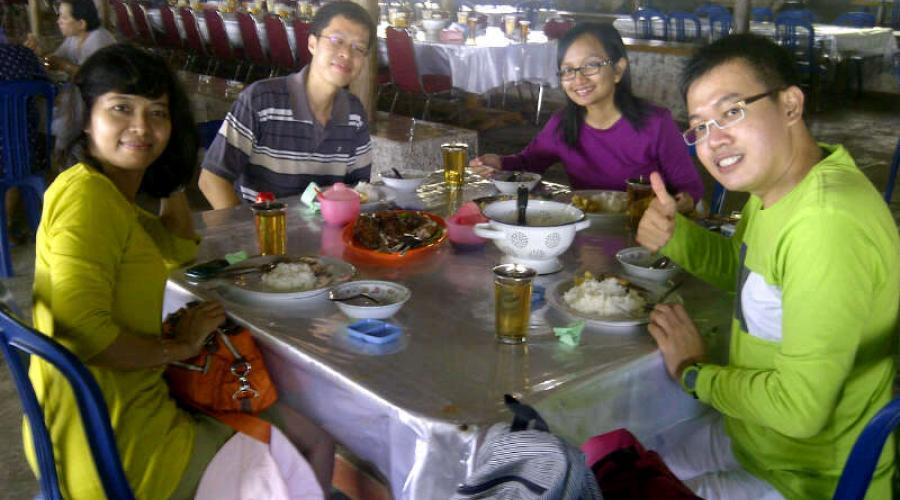 https://belitungisland.com
In addition to Belitung noodles, another culinary menu that is famous in the land of the Rainbow Army is Gangan. From the popularity of this menu, many restaurants will present it. But if you want to enjoy gangan with satisfaction then you have to come to RM. Ketapang tree located in Keciput Village, Sijuk District, Belitung Regency, near Tanjung Kelayang Beach. With a spicy, sweet, sour and fresh taste, Gangan is indeed always appetizing. Of course do not forget to enjoy this Gangan by ordering white rice so that your hunger disappears immediately. Besides gangan, here you can order several other delicious and delicious seafood menus. When enjoying culinary at RM Ketapang Tree itself you also should not forget the menu of crispy water spinach with crispy spices. With its location not far from Tanjung Kelayang Beach, RM. This Ketapang tree will be very appropriate for you to visit after your activities at the tourist attraction.
4. RM. Timpo Duluk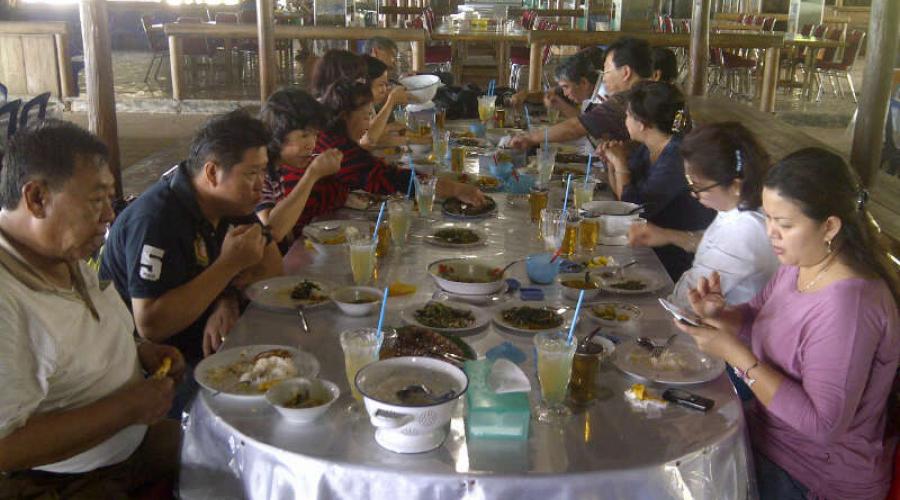 https://belitungisland.com
Located on Jl. First Lieutenant Mad Daud No. 22, Kampung Parit, Tanjung Pandan, Belitung Regency, we can also find a place to eat recommendations that will bring satisfaction called RM Timpo Duluk. Where to eat this one can not be underestimated. Because RM Timpo Duluk is a place that is visited by many artists. Not only that RM Timpo Duluk has also become the top dining place on the Trip Advisor site. In a restaurant that has a capacity of 70 people, we can enjoy some typical Belitung menus which are certainly delicious and delicious. Some typical Belitung culinary menus that we can order include belacan kale, bedulang, berego and mackerel leaf wrap. Berego itself is a culinary that looks like a cake but has a size that is three times larger. With coconut milk yellow sauce and fish that are watered to Berego it makes a savory and salty taste will be able to shake the tongue. RM Timpo Duluk, which was founded by Isyak Meirobie, is open from 11.00 to 22.00 WIB.
5. Kedai Mak Jannah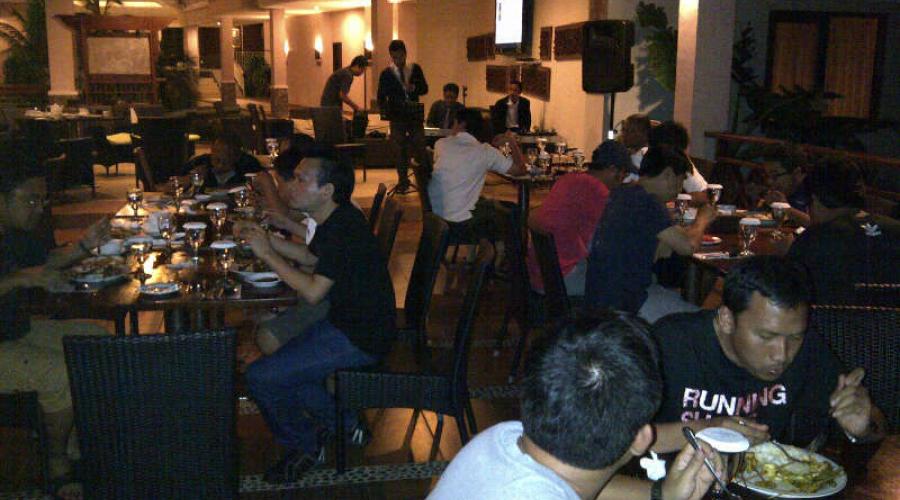 https://belitungisland.com
Finally, recommendations for places to eat in Belitung that will make you satisfied are Kedai Mak Jannah. This restaurant is somewhat legendary. The reason is, Kedai Mak Jannah was founded in 1970. The restaurant located in the KV Senang area, Jalan Veteran, Tanjung Pandan itself presents suto or soto Belitung as its flagship menu. In the typical local culinary menu, you will find lots of fillings such as shredded beef, vermicelli, rice cake and potato chips. Now all the contents will be doused with savory coconut sauce and rich in spices. Before serving the visitors, Belitung suto will be added with crackers and also sprinkled with fried onions. Because of the crowd of visitors to the Mak Maknah Jannah, it is recommended that you come early in the morning so you don't run out. Do not also come too late because the Mak Maknah Shop closes at 14.00 WIB. Even though Kedai Mak Jannah has been run by different generations, the delicacy and authenticity are very well maintained. So you don't need to doubt about the quality.