Membalong is one of the sub-districts in the South of Belitung Regency that is no less interesting than other areas to visit. With a number of tourist destinations that are there, you can also make Membalong District one of your references for fun dancing with friends or family. The tourism objects in Membalong Subdistrict do not only have one type of tourism. But in Membalong District we can find several types of tours that make adventure or ball activities here more exciting and fun. Well, here are some interesting tourist attractions for you to visit for ball activities in the District of Membalong, Belitung.
1. Penyabong Beach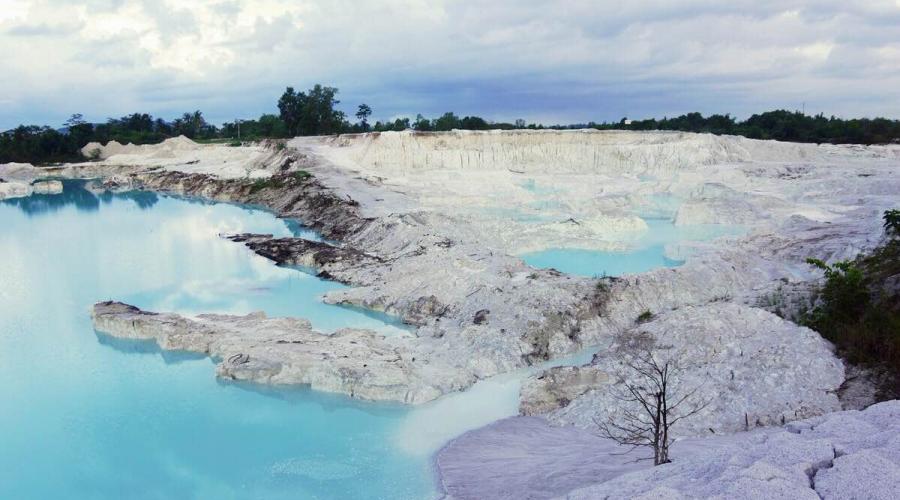 http://www.belitungisland.com
First, the tourist destination that we can visit in the District of Membalong is Penyabong Beach. On the beach which is 70 km from the city of Tanjung Pandan, we can find granite rocks that connect each other. This is where the name Penyabong Beach came from the word "connector". Being on this beach we will feel calm because the atmosphere is not too crowded with visitors. Even so lonely Penyabong Beach makes us no need to spend money to enter here. Although quiet but the charm of Penyabong Beach cannot be underestimated. Because here we can find an unspoiled beach panorama. In addition to granite rocks, at Penyabong Beach we can also find white sand that is still clean. Another special dish from Penyabong Beach is shady trees. From these shady trees, we can feel comfort and shade while relaxing here. Interestingly again when we walk on this beach we will also be able to learn the names of the trees from the board made by UGM students who are KKN in this coastal area namely in Padang Kandis Village.
2. Baginde Stone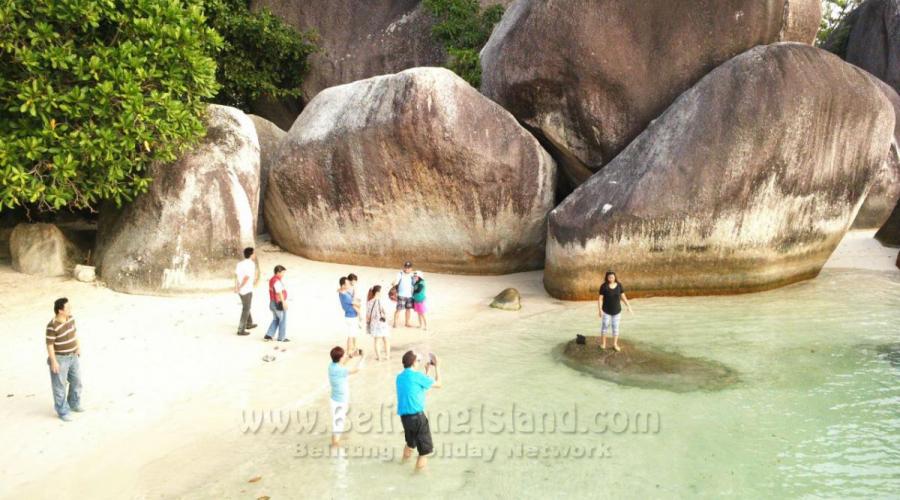 http://www.belitungisland.com
Not far from Penyabong Beach we can also find a unique place that is considered historic and even sacred. This place is called Batu Baginde or Batu Baginda. Although many people consider it sacred, Batu Baginde is still interesting to visit. This is because Baginde Stone is a giant granite rock in the middle of the mainland. The size of the Baginde Stone can be seen from the record diameter which reaches 1.5 meters and reaches a height of up to 250 meters. With the size and height of Batu Baginde, there are even some who say that this destination is a hill. Besides watching the beautiful view from the top of Baginde Stone, here we can also do exciting photography activities. From photography activities in Batu Baginde, you will get cool pictures. But when you do activities on Batu Baginde try to maintain your attitude because there are some beliefs that believe that the location of Batu Baginde is a sacred place.
3. Jurak Insum Waterfall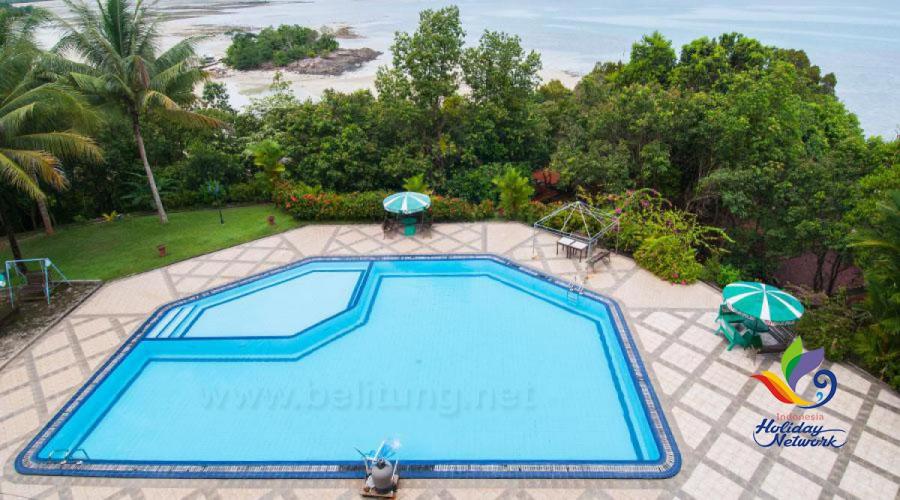 http://www.belitungisland.com
If you want to take a bath and swim in a refreshing place, Jurak Insum Waterfall is the right choice. This waterfall, which is also called the Kawai Head Waterfall, does have clear and clean water so it will make bathing and bathing here very pleasant and refreshing. With the flow of water that is not swift makes us while bathing in a pool can also feel the rush of the waterfall that slowly falls. Jurak Insum Waterfall which is located in Aik Nangka Hamlet, Simpang Rusa Village, Membalong District, Belitung Regency itself has seven levels which make the flow of Jurak Insum Waterfall very pleasing to the eye. The waterfall which has a height of 15 meters also has an environment that is still very sustainable and natural. This is because the location of Jurak Insum Waterfall is in a 10-hectare Lintung forest area. Not just bathing and relaxing or taking pictures that we can do here. But around the waterfall where there is a boulder-shaped rock that is erect upright to make visitors who come can also do rock climbing activities.
4. Seliu Island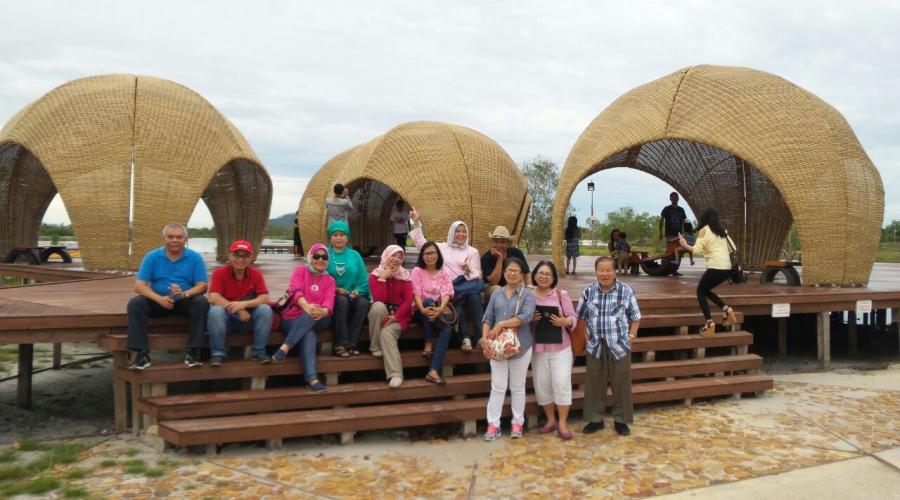 http://www.belitungisland.com
Other exciting activities that you can do in the District of Membalong is to explore Seliu Island. Although relatively new tourism and has an area that is not too large, namely 1,530 hectares, Seliu Island is very interesting to visit. On the island that is still natural and lesatri because it has not been much touched, we can find several things like the famous ones here, Marangbulo Beach. Marangbulo Beach is indeed one of the interesting attractions and is also a major destination for travelers who come to Seliu Island. In Marangbulo Beach, we can find clear sea water, clean white sand. Not only that at Marangbulo Beach, we can also find exotic granite boulders. In addition to Marangbulo Beach, on this Seliu Island we can also find a fishing village with a village atmosphere that is still very much felt. When visiting this fishing village we can also buy souvenirs from commodities produced here such as salted fish, copra, chips and mangoes. Being in several villages on Seliu Island, we will not reach the car. We have only encountered a few two-wheeled vehicles. Most people on Seliu Island do indeed use many bicycles or Potatoes in local languages for activities.
5. Mount Kubing Waterfall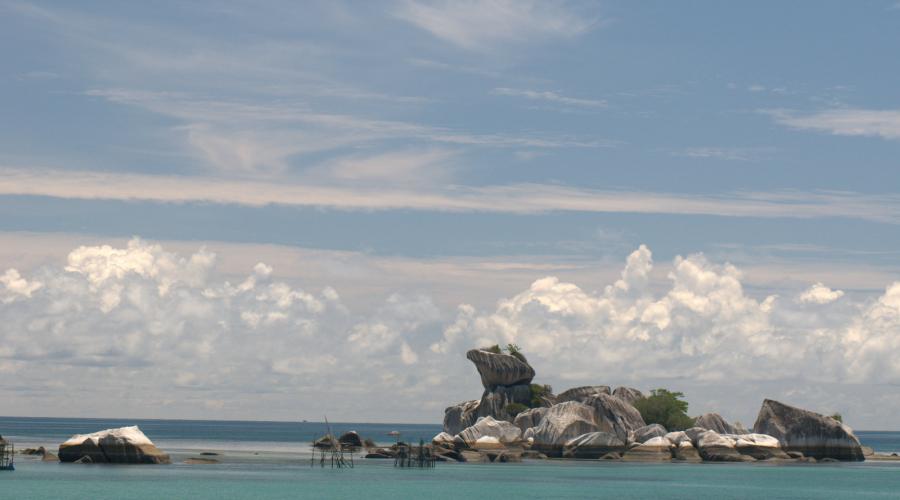 http://www.belitungisland.com
Finally, a tourist destination that we can go to in the Membalong District for bolang activities is Gunung Kubing Waterfall. The Gunung Kubing Waterfall is secured because the location of the waterfall is located in the Gunung Kubing Area, precisely in Perpat Village, Membalong District, Belitung Regency. Because it is in the mountain area, to reach this waterfall you need to prepare physically to climb it. With an unspoiled atmosphere because it is rarely touched making the activities of the ball in the Gunung Kubing Waterfall will be even more interesting. To be sure the activities of the ball in the Gunung Kubing Waterfall will be suitable for those of you who like adventure. Being in Mount Kubing Waterfall itself we will find clear waterfalls that are very comfortable for bathing. In addition, Gunung Kubing Waterfall which is at this height allows us to watch the view from the top of the waterfall pool. From here, soaking in Mount Kubing Waterfall becomes a very memorable activity like bathing in the infinity pool. Soaking in the Gunung Kubing Waterfall itself is even more comfortable because the splash of the waterfall here slowly descends over the rocks.