As one of the favorite destinations and the most popular destinations for tourists, Tanjung Kelayang in Belitung is indeed always crowded with visitors. With the panoramic beauty of the beach combined with white sand and granite rocks, Tanjung Kelayang always anesthetizes anyone who comes. But actually around Tanjung Kelayang itself there are some exotic islands that are a pity to miss. So if you have a longer time while in Tanjung Kelayang, then exploring some of these exotic islands will increasingly make your vacation more memorable. Now here are some exotic islands around Tanjung Kelayang that are indeed interesting and worth exploring.
1. Batu Garuda Island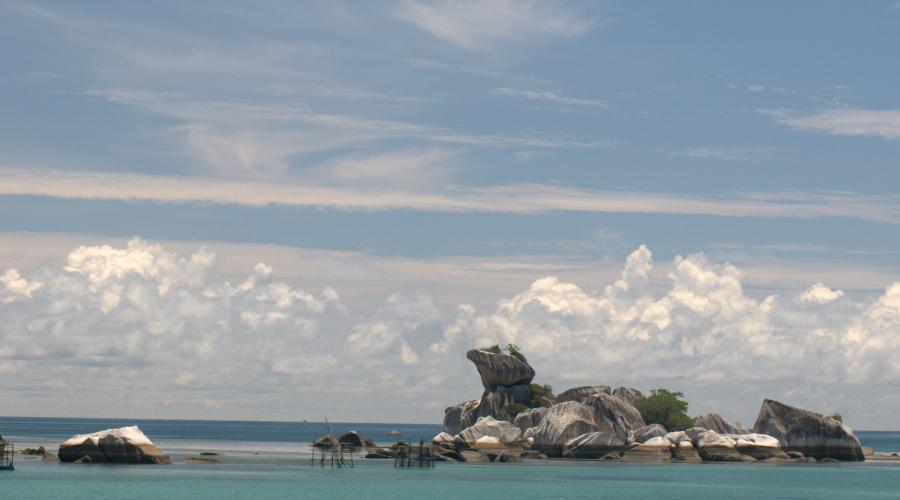 http://www.belitungisland.com
First, the exotic islands around Tanjung Kelayang that are worth exploring are Batu Garuda Island. As the name implies, here we will find a granite that resembles the head of an eagle. Treat unique natural granite that is formed naturally is the attraction of the Garuda Stone Island. From this presentation, many people are curious to see and capture their uniqueness with a camera. However, Batu Garuda Island not only presents granite rocks, but here we can also find clean and clear waters around the island. Not only playing water, on Batu Garuda Island you can also swim freely because the waves are not too big. With exotic white sand will also make you able to explore the island with more fun and fun. Even though it is not too broad which is only 50 square meters, but the beauty that is presented will surely make you feel at home for long on the Garuda Island. The island which is right off Tanjung Kelayang Beach itself is very easy and fast to reach even with a fishing boat. So you don't need to hesitate to visit Batu Garuda Island which will make your vacation more memorable.
2. Lengkuas Island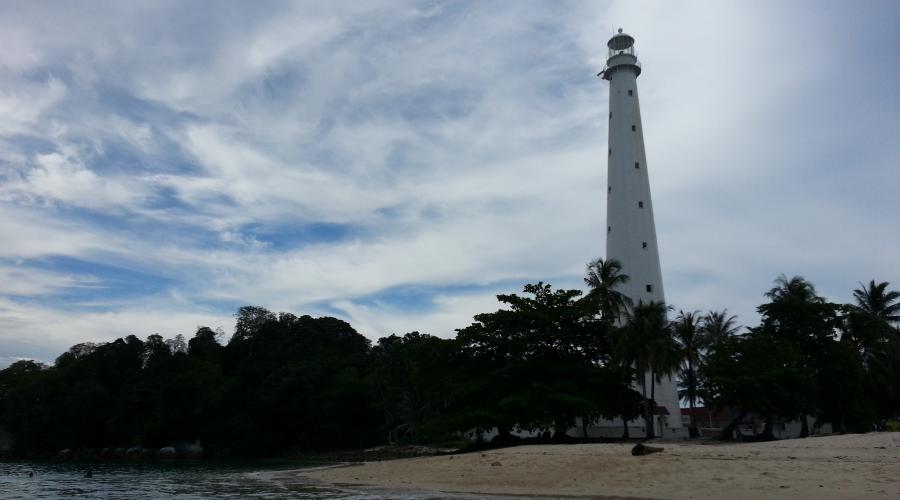 http://www.belitungisland.com
Besides Batu Garuda Island, there is also Lengkuas Island, which is located not far from Tanjung Kelayang. Even so close, we can come to this island via the 'sand bridge' at low tide on foot. But if the tide is high then you can't help but have to take a boat. Located on Lengkuas Island we can find a Dutch lighthouse built in 1882. The name of Lengkuas Island itself comes from a play on the word "lighhouse" which is the name of the lighthouse in Dutch. So don't think the name of Galangal is because there are a lot of galangal plants here. Now because there is a lighthouse building with a height of 62 meters, then you on this Lengkuas Island can go up to the top. Arriving at the top of the lighthouse you will be able to enjoy the view of Tanjung Kelayang and its beautiful and enchanting surroundings.
3. Batu Berlayar Island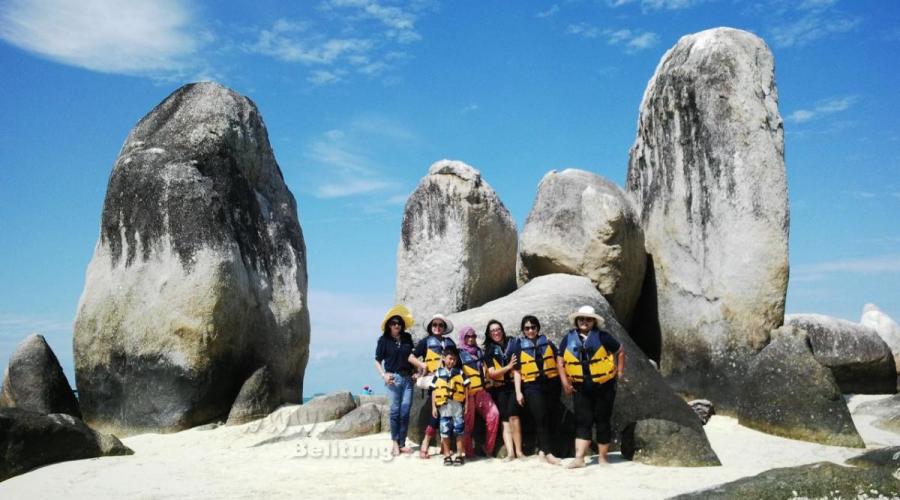 http://www.belitungisland.com
Located to the west of Tanjung Kelayang, we will also be able to find an exotic island called Pulau Batu Berlayar. This island is no less interesting than the previous islands discussed. Because on this Batu Berlayar Island we can find two granite rocks that are shaped or tangible like a ship that stretches sails. Actually there are some other granite rocks that we can find here, like there are shaped like teeth and shark fins. But these two unique granite stones are indeed very prominent and most interesting. This is because in addition to its shape, these two granite rocks also have the largest size. The height of the two granite boulders in the shape of a ship which is stretching the sail itself reaches 10 meters. In addition to unique granite rocks, on Batu Berlayar Island we can also find clear waters and clean white sandy beaches. Not only that, for those of you who want to relax then on the island that can be visited during low tide, your relaxation activities will be optimal. This is because Batu Berlayar Island is an uninhabited island so it is very calming.
4. Sand Island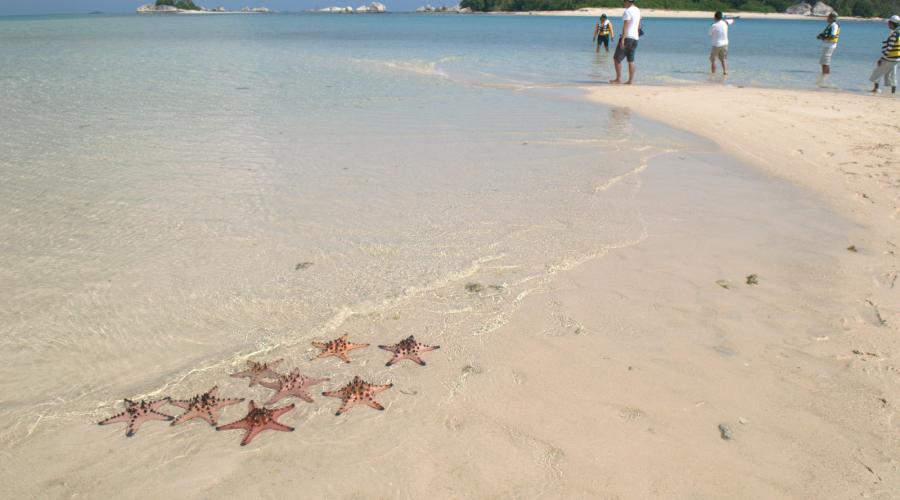 http://www.belitungisland.com
Called Sand Island because this island only consists of white sand. This island which is also called Gusong itself only appears and can be visited when the sea water is really receding. But when the tide is rising, the Sand Island will disappear and disappear into the water. Because it only appears when the sea water is receding, this Sand Island also calls the magical island. Although only in the form of white sand, but here you will get a lot of interesting things. The first interesting thing, of course, is the very fine and soft white sand. In addition to exotic white sand, on this sand island we can also find cute sea stars. Do not forget also the clear sea water here which can make you able to swim with fun and fun. With all the interesting offerings on the Sand Island, it is not uncommon for many travel agencies to include it as an island hopping destination in Belitung waters.
5. Kepayang Island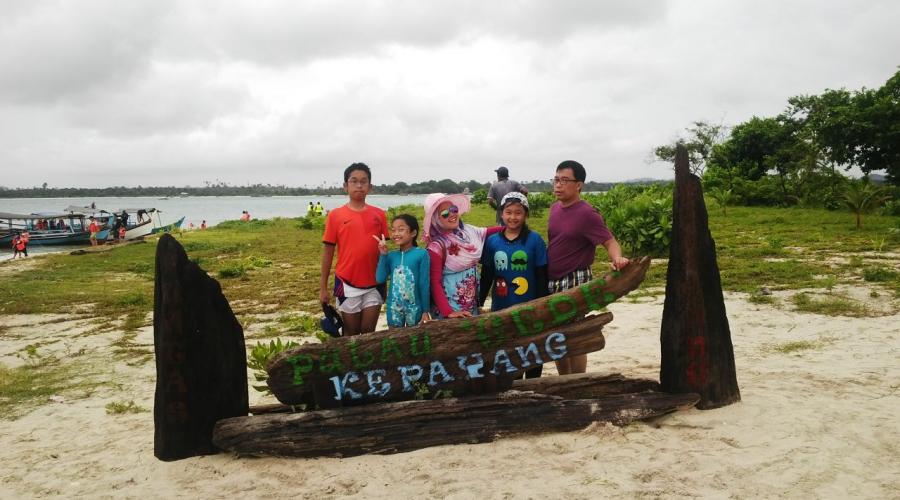 http://www.belitungisland.com
Finally, the exotic islands around Tanjung Kelayang that are worth visiting and exploring are Kepayang Island. Unlike previous islands which were deserted, on Kepayang Island or there is also a mention of this Pig Island you will find many people. The large number of people on Kepayang Island is because here there are many facilities that can be found. It can be said that Kepayang Island is a crowded tourist place. Some of the facilities that we can find and enjoy on Kepayang Island are a small mosque, restaurant, bathroom, toilet, lodging and also a dive shop which is a place for selling and renting dive equipment. Not only facilities that we can enjoy on Kepayang Island. Because here we can also see breeding places or sea turtles conservation and coral preservation. To enter the conservation site which is managed by the Belitung Environmental Care Group (KPLB), we only need to pay an entrance ticket of IDR 10,000 / person. Just like other islands, in Kepayang Island we can also find clear waters, white sand and also some exotic granite rocks. The island, which can be reached for about 15 minutes from Tanjung Kelayang, actually consists of two mainland islands, namely Kepayang Besar and Kepayang Kecil Island. However, due to the proximity of the two islands, it almost looks like a land mass. Interestingly again to enter Kepayang Island, you will not be charged an entrance fee. But indeed if you use some of the facilities available here, then you must be prepared to spend money.